SMOKE SIGNALS

Newsletter of the Smoky Mountain Austin-Healey Club

Knoxville, Tennessee

Amy Turner, Editor
Although the calendar says it's still winter, the forsythia and daffodils haven't been notified. Neither have the Healey enthusiasts. Pub Night premiered in February and was a rousing success! Around 25 people enjoyed driving their Healeys, eating good food, and talking with fellow Healeyists.
With spring fast approaching, now is the time to check our cars' systems and get ready for a great summer of driving.
Upcoming Events

Date

Event

Where to Meet

Mar. 8

Pub night

Sullivan's restaurant around 7:00 p.m.

Mar. 13

Tech. Session

10:00 a.m. Contact Gary Lownsdale for directions.
In this issue…
Healey Events Rev Up *
Doug's Drivel
*
Smoke Editions
*
April Rugby Event
*
The Seedy Side of British Cars
*
Gary's Trivia Challenge
*
Pub Night
*
The May West Knoxville Driving Challenge
*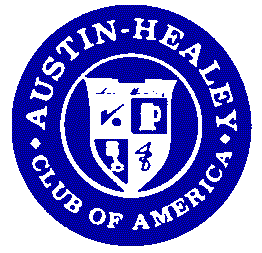 If the first meeting was any indication, our informal Pub Night at Sullivan's is going to be a rousing success! A good percentage of our members decided to attend and enjoy some really succulent food and fellowship together. Most of the discussion, of course, centered on Healeys. But occasionally something of lesser importance was brought up at different sections of the long table. Be sure and come on March 8th – Amy has a good joke for us!
Don't forget the April drive to Rugby for an overnight stay (or you can just come up and do the drive on Saturday afternoon and return home). There are some really wonderful Healey roads around Rugby and Big South Fork Recreational Area, and many of the views of the river canyon are spectacular. Just remember, if you want reservations at the Grey Gables Bed & Breakfast, you need to call soon.
I'm really excited about the enthusiasm shown by our members at the two most recent club events. If this eagerness and cordiality continues, as I'm sure it will, there's no limit to what we can accomplish this year!
By the time you read this, we will already have done the drive to Mountain Harbour Inn. I hope the weather is as pretty as it was on the same drive last year. I'm sure Bryan (the drive captain) will do all he can to see that such is the case – Top-down weather in February!
Happy Healeying!
Doug
Spring is almost here! I can hardly wait for the events coming up in the next few months. With the Monthly Pub Nights, the March tech session, April's drive to Rugby, the May West Knoxville Driving Challenge… it's a great time to be a Smoky Mountain Austin-Healey Club member.
Have you taken a good look at the insignia of the Austin-Healey Club of America lately? The quartered shield in the center represents the interests of the AHCA.
A checkpoint symbolizes rallies.
A trophy mug symbolizes competitions and social activities.
A rod and piston symbolizes technical activities.
An autocross or race course incorporates the 4 and 6 cylinders of big Healey engines and contains an "S" for Sprites.
As our club grows and changes, our activities are becoming more eclectic. There's something for everyone. Be sure to take advantage of the events, volunteer to help with organizing, and most of all enjoy these wonderful machines.
Cheers!
Amy
Have you made your reservations yet? This event promises to be a great opportunity for socializing, driving, and just unwinding and enjoying the Tennessee spring weather.
The prices published in last month's newsletter needed a little revising, so here they are:
Lunch on Saturday the 24th, $8.50 per person.
Drive over the plateau roads Saturday afternoon, FREE!
Bed and breakfast with gourmet dinner on the evening of the 24th and country breakfast on the morning of the 25th, $115.00 per couple, $85.00 single.
Drive captain David Campbell has been making plans. Some of his ideas include the Highland Manor Winery after lunch or maybe a drive to Colditz Cove, a beautiful waterfall that would offer a very short (about a quarter mile) hike. David also asked me to remind everyone that if you want alcoholic beverages during or after Saturday's dinner, you must bring them with you.
Be sure to make your reservations before March 30th by calling innkeeper Linda Brooks at 423-628-5252. This one's going to be great, folks! Don't miss it!
The Seedy Side of British Cars
From the Internet, with author's permission
I was on my way down to the local bookstore to buy my copy of Classic & Sportscar, and as I kissed my wife good-bye before hopping in my TR-4, she said, "Have a nice trip to get your car porn, love." When I asked her to explain, she pointed out how I was going to buy a magazine filled with glossy color photos of good-looking things I couldn't have and could only fantasize about because they were too expensive. Sounded like pornography to her, and when I gave it a moment's thought, I realized she was right – I was going out to buy car porn.
Once convinced of the basic validity of the metaphor, I started to think about how one could classify the various classic car magazines on the market by comparing them to various pornographic magazines. It's easier than you might think. First off, Classic & Sportscar and Thoroughbred & Classic are clearly the Playboy and Penthouse of the classic car world. They have pictures of all sorts of cars, as long as they are sporty and fairly expensive. They also pretty much only have pictures that one might term "soft core" car porn – the cars have all their paint on, they look nice and are polished, and you don't see them taken apart or, heaven forbid, having big rust holes repaired. They are also the largest and the most mass market, going for a wide audience, and they have lots of words in them, not just pictures.
Practical Classics, on the other hand, is clearly the Hustler of the classic car porn world. The cars are not as fancy and stylish as in the previous two magazines, but they are more approachable – it's easier to imagine you might actually date ..., oh, I mean buy one of them. Practical Classics is also more hard core – you get to see what is under the hood while the man with the spanner tightens a few things up – very intimate. Lots of pictures, not as many words.
For American readers, British Car magazine is an oddity of car porn - sort of like a combination of Big Hooters with the Journal of Gynecology. Any kind of picture of a car will do, as long as it's British, just like Big Hooters will carry any sort of picture, as long as it involves, well, big hooters. But British Car has all that detailed advice stuff as well, very clinical - I guess they want to appeal to every American no matter how weird their tastes in car porn are.
As for the various single marque magazines, like Jaguar World or The Triumph Register, they are just like the sort of very specialized magazines found only behind the counter in plain wrappers, something like Blonde Teens Who Like Riding Horses In The Nude Covered With Chocolate Sauce. For these car porn devotees, only one specific kind of porn will do, only pictures of one specific kind of car will get them off…the couch to polish something in the garage.
As for club newsletters, well that's just plain dirty, exactly like the stuff collected by local groups of perverts who pass around the latest child pornography. Crudely printed, amateur layout, but for the faithful the thing they must have so that they and their fellow perv…enthusiasts can get together and compare what it is they have in their driveways.
So what sort of car porn consumer am I? Well, I must confess that I am an addict – I read all kinds, and I just can't get enough. Good thing my wife is so understanding, not to mention my TR-4....
Mark "Is that an alternator in your pocket or are you just happy to see me?" Clark
Dr. Mark Clark
Oregon Institute of Technology
February Pub Night

Bryan asks Kathy, "Hey, ask Gary if he's going to eat the rest of his fries."
At January's planning meeting, Gary Lownsdale challenged us with a Healey trivia quiz. He's spent a few years accumulating a wealth of knowledge about Healeys and is ready to take on challengers. Each month he'll ask some trivia questions in the newsletter. The first one to contact him at 423-458-0993 with the right answers will be the month's winner. At the end of the year, he might even have a prize for the trivia champion.
As a warm-up, here are the questions from January's meeting. Since many people got the answers at the meeting, these don't count toward the contest.
What is Donald Healey's middle name?
What is Donald Healey's wife's name?
What was the very first major competition event in which Donald Healey competed?
In what year did Donald Healey gain his first International Speed Record at Bonneville in an Austin Healey 100?
In what year did Donald Healey officially achieve a maximum speed of over 200 mph with an Austin Healey?
What was the name of the home in Perrenporth where Donald Healey was born?
What was Donald Healey's birth date?
In what year did Donald Healey receive the CBE from Her Majesty The Queen?
When was Donald Healey's death date?
What was the last official event of Donald Healey's competition career?
In what year did the first Healey Silverstone emerge from the Warwick facility?
At what show was the Austin Healey 100 officially introduced?
Who were the co-designers of the Austin Healey 100 chassis?
Who was the styling designer for the Austin Healey 100?
Name the production codes for the Big Healey models, starting with BN1.
Name the production codes for the Sprite models, starting with AN5.
What is the highest rated engine torque that was installed in a model after BN1?
What is the highest rated horsepower for a production Austin Healey?
What was the only triple carb model Austin Healey that was sold as a production model?
What was the lowest production quantity model built, excluding the 100-S?
What models were produced at the Longbridge factory?
Where was the 100-S model built?
What was the "other Healey" that was simultaneously produced in the same factory as the 100-S?
What was the factory location for models produced after the BN-4?
Where were the Sprites built?
What was the factory rated horsepower on the Bugeye Sprite?
Be there or be square
Don't miss Pub Night on March 8th at Sullivan's Restaurant on Northshore Drive. What a turnout we had in February! Even one or two non club members got wind of the gathering and came to share stories and tech tips.
Remember, if the weather's nice we've been invited to park on the grass in front of the restaurant. (Savvy restaurateurs know how to advertise!) Be there at around 7:00 for this monthly informal gathering.
The May West Knoxville Driving Challenge
Plans for the SMAHC's first driving event are coming right along. We've secured the Adessa Auction Lot in Lenoir City for May 15th. Word is getting around about this event, and we're likely to see visitors from Georgia and the Carolinas, for starters.
We're planning three events: a funkhana, a rally, and a gymkhana. Here's a quick glossary, in case you haven't participated in these types of events before.
RALLY: A time, speed, and distance competition. The point is not to drive fast, but to follow directions and to follow the speed limit. Participants are judged on how closely their time matches the amount of time it should have taken for them to reach checkpoints if they had taken the right route at the proper speed.
GYMKHANA: This is the speed event. How fast? Oh, about 35 mph, tops. The race course will challenge how well your car handles, not how much rubber it leaves on the pavement at the starting line.
FUNKHANA: This is a gymkhana with a few twists. You might have to throw some tennis balls into some buckets or leap out of the car to kick a field goal. Guaranteed to be fun! (Or cause a divorce.)
Mark your calendars, bring a navigator, and spread the word! Contact Amy Turner at 423-745-0309 or
LTTURNER@usit.net
for registration details.
Mar. 8 Pub Night at Sullivan's Restaurant on Northshore Drive. Meet at 7-ish.

Mar. 13 10:00 a.m. Tech session, Gary Lownsdale presenting. Call Gary at 423-458-0993 for directions.

Mar. 30 Deadline for reservations at Grey Gables Bed and Breakfast in April. Call innkeeper Linda Brooks at 423-628-5252.

Apr. 12 Pub Night at Sullivan's Restaurant.

Apr. 24-25 Drive and overnight stay at Grey Gables Bed and Breakfast in Rugby. David Campbell, drive captain.

May 1-2 Townsend British Car Show.

May 10 Pub Night at Sullivan's Restaurant.

May 15 May West Knoxville Driving Challenge. Funkhana, rally, and gymkhana. Gary Lownsdale and Amy Turner, coordinators.

---
SMOKE SIGNALS

Smoky Mountain AHC Newsletter

Amy Turner, editor

126 S. Jackson Street

Athens, TN 37303-4711

Phone: 423-745-0309

E-mail: ltturner@usit.net