SMOKE SIGNALS

Newsletter of the Smoky Mountain Austin-Healey Club

Knoxville, Tennessee

Amy Turner, Editor

Number 5 May 1999
Welcome Maxwell Austin Lownsdale! He was born on April 12 – Pub Night! – early enough for Gary and Paulette, the proud grandparents, to make it to Sullivan's that evening. In consideration for his excellent timing, we understand he already has a Healey with his name on it.
Upcoming Events

Date

Event

Where to Meet

May 1

British Car Gathering

Townsend, TN, Days Inn

May 10

Pub night

Sullivan's restaurant around 7:00 p.m.

May 15

May West Knoxville Driving Challenge

Adesa Auctions, Lenoir City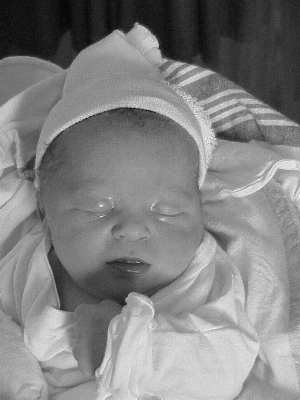 In this issue…
The Newest Healey Fan! *
Doug's Drivel
*
Smoke Editions
*
British Car Gathering at Townsend
*
Sprite Raffle
*
Eurofest Nashville
*
The Wet Healey
*
Club Officers: "Sparkplugs"
*
Upcoming Events
*
When you read this, the Rugby drive and stay at the Gray Gables Inn will be a pleasant memory for those who were able to participate and a time of regret for those who were not. I hope everyone who has the time will attend, even if you don't spend the night. Barbara and I are really looking forward to the curvy roads, the beautiful scenery, the food, and, most important, the fellowship with fellow Healey nuts, er…enthusiasts.
Speaking of great fellowship and enthusiasm, where could it be any better than Pub Night at Sullivan's Restaurant? Each gathering seems to be better than the last, and they've all been good. Gary and Paulette showed supreme loyalty to the club by leaving their newborn grandson (born that same day!) to come. Of course, they did bring pictures!
Man, has this been a crazy month! The beautiful flowers and the new leaves on the trees call for a drive in the Healey WITH THE TOP DOWN. But each time we've had the opportunity, the weather has been awful – either raining or cold. But soon we're going to catch a warm day of sunshine and it'll feel twice as good because it's been so long coming.
By the way, be sure to read the article by Mark Lambert, "Mechanicals," in the premier issue of Healey Marque. Mark is from the Nashville club and we met him on one of the Rugby drives a year ago. It's a really interesting article which explodes lots of myths.
And don't forget the May West Knoxville Driving Challenge and the 12th British Car Gathering in Townsend, both coming up early next month!
Happy Healeying,
Doug
Busy, busy, busy! The beginning of spring marks the beginning of the busy season for us Healey owners, so Paul and I have been having a blast getting ready for all the goings-on.
We finally got Healium up onto jack stands to see what was causing the brakes to go spongy. The news was not good. With Gary Lownsdale's help, we discovered that the rear brakes were using the newer style single piston drum brakes with the old axle. This combination didn't work because the bolts on the back of the old axle were hitting the brake cylinder with every revolution. The result was that the brake cylinders had been worn down and were leaking brake fluid into the drums. To make a long story short, that meant buying all new brake parts and putting everything back together again.
Then there's the autocross season happenings. With the bugeye out of commission for the moment, we decided to see what the Miata would do. As it turns out, it doesn't do too much with an automatic transmission. Still, I got to drive in the Dogwood Grand Prix and enjoy not only coaxing a few less seconds out of the Miata, but also watching the Lownsdales tear up the course, Paulette in her big Healey and Gary and Charlie in their race Sprite. That was enough to keep me warm on a cool April Saturday!
Last but not least, there's the May West Knoxville Driving Challenge. We've been working hard to make this the most fun driving event you've ever attended. No pressure, a few laughs, an adrenaline rush here and there, a wonderful rally that tours the east Tennessee countryside, topped off by an awards dinner – should be a winner for everyone! Do plan to attend, and let your friends know about it.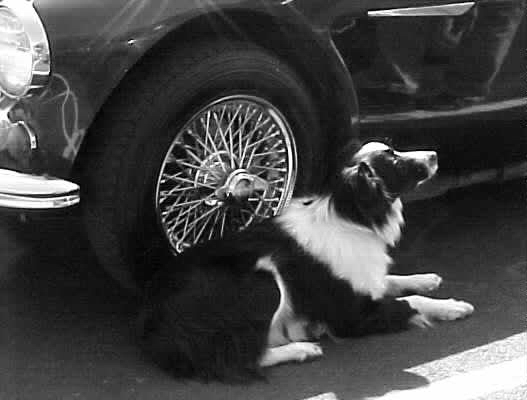 Bill Denton's English border collie, Annie, eagerly awaits the drive to Rugby.
Townsend 1998:
Triumphs showing off their spring bonnets.
British Car Gathering at Townsend
May is here again and it's time for the British Car Gathering! This show gets better every year. To me, it marks the beginning of the car show season, and I look forward to it as I wait out each winter.
If you made it to the show last year, you may have met Bob and Annice Kitterer from San Diego, California. They had planned a cross-country trip with stops at many shows, including the one we're lucky enough to have in our back yard.
Well, this year the Kitterers decided to take it at a slower pace and only go back to the really good shows, singling out only three or four events during their three months on the road. Guess who's going to be at Townsend? You'll recognize them by their beautiful Nevada beige, one-owner (!) bugeye.
Remember, the SMAHC's quarterly meeting will be at the Townsend show, so we'll see you there!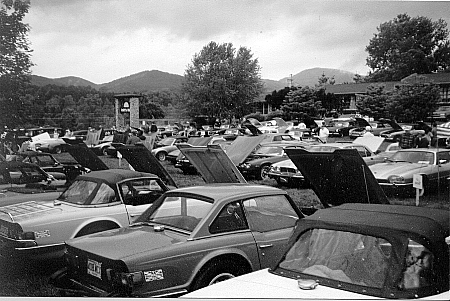 Sprite Raffle
The Midwest Region AHCA has announced their 1999 Club Project, a Raffle of a 1969 Sprite, mechanically restored by the club with professional bodywork and new paint.
Raffle tickets are $5.00 each. Contact Pat Brown to purchase your tickets.
Pat Brown

28W577 Forestview Dr.

Warrenville, IL 60555

OR 630-393-1413
The raffle will be held Sept 12, 1999 at the Chicago area British Car Union's British Car Festival, in Des Plaines, IL.
The Nashville British Car Club has joined up with the Alfa Romeo Owners' Club to present the first all-European car show in Nashville on Saturday, May 29. In previous years, the British-only show has grown in popularity, and this year's show should be the best yet.
J.D. Damon, Eurofest co-chair and president of the British Car Club says, "Our British show has been hugely successful for the last five years. We feel that adding all the other European marques can only make it better."
The show is presented in the Union Station Train Shed in Nashville. Pre-registration is required this year, so contact the organizers as soon as possible. J.D. Damon can be reached at (615) 298-9314; Fax: (615) 726-4835; E-mail:
NBCC@home.com
.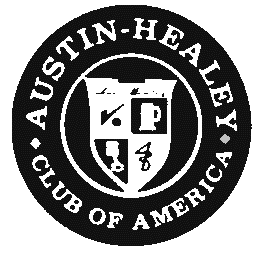 Did you hear about the unfortunate Healey in the lake incident at Conclave last year? Here's an update from R.C. Brown, Southern Ontario Austin-Healey Club:
Today, March 5, 1999, only three days short of seven months since my BT7 went into the lake during Conclave '98 at Boyne Mountain, the car returned home. The car is now in better shape than when the incident occurred.
Among corrective action, the clutch has been replaced, parking brake repaired, valve job performed, new exhaust, front end work, new carpet and seat covers, and new interior panels. Other minor problems were corrected and a new Robbins top installed. I still need to put the seat belts in correctly and reinstall the boot interior.
My insurance company (standard street car coverage) considered the car totaled, but for 15% of the settlement, I was able to keep the car with no effect on the title. The settlement was far below what is listed in any of our common references as the value of a BT7. But it took three months to get them to agree to what I did get and it was sufficient to cover all of the work I have done, with very little left over.
In my ten years of ownership, today is the first time I have had my car out in early March, just in time for the 3-5 inches of snow that is forecast for tonight. As soon as it melts, I'll start driving it on a fairly regular basis.
May 1-2 British Car Gathering in Townsend.

May 10 Pub Night at Sullivan's Restaurant.

May 15 May West Knoxville Driving Challenge. Funkhana, rally, and gymkhana. Gary Lownsdale and Amy Turner, coordinators. Call Gary at 423-458-3093 or Amy at 423-920-0362.

May 22 Chateau Elan in Georgia.

May 29 Eurofest Nashville. Contact J.D. Damon at (615) 298-9314 by May 15.

June 12-13 Triad Austin-Healey Club's British Car Days in North Carolina.

June 14 Pub night at Sullivan's Restaurant.

June 20-25 Conclave in St. Louis.

---
SMOKE SIGNALS

Smoky Mountain AHC Newsletter

Amy Turner, editor

126 S. Jackson Street

Athens, TN 37303-4711

Phone: 423-745-0309 or
423-920-0362

E-mail: ltturner@usit.net