SMOKE SIGNALS

Newsletter of the Smoky Mountain Austin-Healey Club

Knoxville, Tennessee

Amy Turner, Editor

Number 6 June 1999
Conclave is right around the corner, and I'm psyched! The promise of seeing Healeys big and small displayed on the grounds of Grants Farm, the joy of winding 'er up for the gymkhana and the speed runs, the anticipation of talking Healeys with old friends and meeting new friends…it's almost more than my delicate little psyche can take. See y'all there!
Upcoming Events

Date

Event

Where to Meet

June 12, 13

British Car Days

Clemmons, NC

June 14

Pub night

Sullivan's restaurant around 7:00 p.m.

June 20-25

Conclave

St. Louis, MO
In this issue…
Meet Me in Saint Louis *
Doug's Drivel
*
Smoke Editions
*
CLUB OFFICERS: "SPARKPLUGS"
*
Pub Night Happenings
*
Call for Submissions
*
The May West Knoxville Driving Challenge
*
The Rugby Drive
*
We've had so many good things happening with the club this month, I hardly know where to begin. Maybe with the Rugby drive. Barbara and I met Amy and Paul Turner, Bill Denton, and drive captain David Campbell at the Holiday Inn, Cedar Bluff. The weather was absolutely perfect for a day of Healeying, so we enjoyed the road to the Grey Gables Inn where we were served a delicious lunch.
Amy, Paul, and Bill had to leave in the early afternoon, but we spent some more great time on those curvy Cumberland Plateau roads. We visited a winery, spent the night at the Inn, and did some more touring the next day, even to the point of trying to find a road that didn't exist and finding some people who shouldn't have. We were fortunate to turn around before we had to ford the creek. But it was fun. The only bad thing about the whole Rugby experience is that more of you couldn't have been there with us. It was truly one of those times when one is so grateful to put the top down, hear the unmistakable Healey exhaust note and watch the blue sky sail overhead as you unwind the road in front of you! Thanks, David, for a great trip.
I wasn't able to attend out last Pub Night, so I missed seeing many of you there to tell you what a great trip we had. I heard, however, the turnout was again good and everyone enjoyed the food and fellowship. See you there next time.
Now to the May West Knoxville Driving Challenge. Gary and Paulette, Amy and Paul, with the able assistance of Rick Hayes, Andree Miller, and others (including a representative from the Atlanta Club) gave us a real enjoyable and fun event. Again, the turnout was a little disappointing, but those of us who were able to be there enjoyed ourselves very much, though at times some of us looked pretty silly. Unfortunately, I think there might be some candid photos in this issue of Smoke Signals of some of us innocents caught in compromising situations. Anyway, getting together to drive our cars in timed competition was a wonderful experience, and I want to thank those of you who organized the event and those who participated.
'Til Pub Night…
Happy Healeying,
Doug
Whew! Where did May go? I thought there were at least another couple of weeks to go, but here's June, busting out all over.
The Rugby drive really was spectacular, even if I did drive a (gasp!) Japanese car. Hey, I had the top down! I stayed well back of the real sports cars, too, and ran interference against motorists who got too close. Yeah, that's the ticket. I was providing a service! All right, all right, Healium's on the road now. I won't transgress again.
The Townsend show was wonderful, as always, especially since it was my first real opportunity of the year to get Healium out. The weather was perfect, the cars were beautiful, and the company was super. Bob Ricker took home a second place award in the Healeys class, and Debbie Adams won for her Triumph. Congratulations!
The May West Knoxville Driving Challenge went without a hitch, and it seemed to be a big hit with the participants. Doug was right; I did try to get pictures of the funkhana. Unfortunately, the camera didn't cooperate. I may have a second chance, though. People are already requesting another event in the fall. Hmm…I've still got that blonde wig and red boa.
See you on the road!
Amy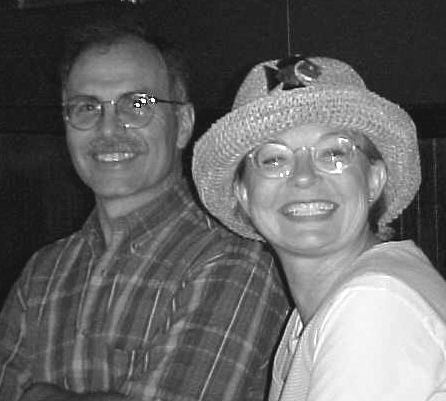 Long lost Healeyites Tom and Noelle Dean joined us at the last Pub Night. Welcome back!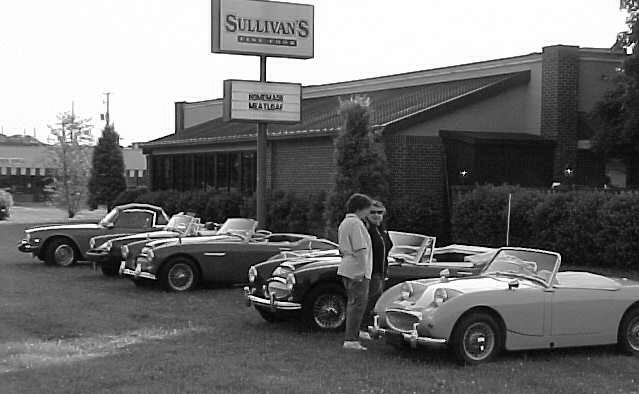 President
Doug Smith
Rt. 3, Box 535C
Rutledge, TN 37861
423-828-3922
Vice-President
Bryan Broadhead
215 Sugarwood Drive
Farragut, TN 37922
423-966-7098
Secretary/Editor
Paul/Amy Turner
126 S. Jackson Street
Athens, TN 37303
423-745-0309
ltturner@usit.net
Treasurer/membership
Rick Hayes
9024 Tall Timber Drive
Knoxville, TN 37931
423-531-7174
Tech Chairman
Bob Ricker
9108 Montague Lane
Knoxville, TN 37923
423-694-6086
External Events
Bill Denton
807 W. First St., No.
Morristown, TN 37814
423-587-1982
Club Historian
Richard Miller
9705 Bob Gray Road
Knoxville, TN 37923
423-694-4435
AHCA Delegate
Gary Lownsdale
417 Shawnee Place
Loudon, TN 37774-3164
423-458-0993
Pub Night is a smashing success! Each gathering seems to get better. In May we saw Tom and Noelle Dean after a long absence. Ken and Amy Poseley, potential new members from Spring City, joined us. Bob and Annice Kitterer made it all the way from San Diego, California, and told us of their travels. Gary Lownsdale let us know about the formation of a Healey Boat Club. Leonard McKeehan brought a sample of the newly designed club logo sweater.
Our impromptu car show in front of the restaurant is a real crowd pleaser, so don't miss it this month. It's always the second Monday of the month at Sullivan's Restaurant on Northshore.
Many thanks to those who have submitted pictures for the calendar and articles for the newsletter. We're about to hit the hot months, though, and there aren't many events or drives scheduled. Do you have a story to tell about restoration projects, tech tips, show reports, or Healeyism in general? Do you have pictures of your car that you'd like to share with the club? Send them to me at:
Amy Turner
126 S. Jackson St.
Athens, TN 37303
or
Ltturner@usit.net
The May West Knoxville Driving Challenge
Mae West may have had nothing to do with British cars, but she certainly knew a thing or two about exciting curves. When the SMAHC decided to host our first speed event in May…in west Knoxville…you see where I'm going with this, don't you? The May West Knoxville Driving Challenge was born on May 15, 1999.
We got ambitious, it's true. There were those who wanted nothing more than to zip around some pylons in a parking lot. Others wanted to take in the beauty of east Tennessee within the context of a rally. And some were intrigued by the idea of a funkhana. We threw caution to the wind and decided to try to do all three in one day. Since many of us were new to the world of speed events, the difficulty level of all courses was kept at a novice level.
The day started with a wonderful gymkhana. Experienced and novice drivers alike enjoyed finding out just what their cars were capable of. We made the discovery that the incessant Knoxville Interstate construction has actually accomplished something. Imagine that! We found that we were all pretty proficient at driving around obstacles. Gary Lownsdale's clever course incorporated a six-pointed star in the center. Drivers went through this "star gate" three times in three different directions. More than one participant found themselves pointed in the wrong direction at one time or another.
Experienced autocrossers like John May of Atlanta and Rich Miller from the local club showed us how it should be done. Novice racers David Campbell, Paul Fournier, and Bryan Broadhead seem to have caught racing fever. They all took home trophies, and all cars escaped unscathed. Ray Sinclair and Gary Thompson of Atlanta brought a bugeye and a Mini Cooper, respectively, and gave a great demonstration of how to have a blast in a little British car. Their cars were ready for racing, even though the Mini had a newly rebuilt engine in it. Thompson made one run in the Mini and won the gymkhana's Open Class with that one attempt.
After the gymkhana, Gary Lownsdale presented a concise guide to rally terminology, and we were on to the funkhana. In the spirit of the event's namesake, the funkhana required participants to take on the guise of Mae West – complete with feather boa, rhinestone jewelry, and blonde wig. (Our esteemed President Doug Smith was especially fetching as a blonde.) Navigators became W.C. Fields, sporting a straw skimmer and a big red nose. A quick drive around the hourglass figure course and a toast to Mae with a shot of W.C.'s favorite beverage completed the course. Gary Thompson was a little frustrated with the course, so he took out his aggressions on the funkhana designer by dousing her with some of W.C.'s drink. Not to worry. I dried out pretty quickly.
Our area is blessed with an abundance of natural beauty, and the rally took full advantage of the gorgeous weather and glorious countryside. Although the rallymaster threw in a couple of tricky directions and a few tough questions about the roadside sights, every participant finished the course without complaint. Only a couple of adventuresome drivers made unplanned detours, and everyone enjoyed seeing life in small towns like Paint Rock. Several of the local club members were new to rallying, but it should be pointed out that even the fifth place car had only 1.8 total penalty points. The rally ended at Melton Hill Dam, a beautiful waterside recreation area, where we finished the day with a picnic and awards presentation.
The standings were as follows.
Gymkhana
Big Healeys Class: First place, John May; Second place, Paul Fournier; Third place, Doug Smith
Spridgets Class: First place, Gary Thompson; Second place, Charlie Lownsdale; Third place, Amy Turner
Open Class: First place, Gary Thompson; Second place, Bryan Broadhead; Third place, Rich Miller
Funkhana
First place, Charlie Lownsdale and John Wright; Second place, David Campbell and Paula Campbell; Third place, Doug Smith and Julie Smith
Rally
First place, Doug Smith and Julie Smith; Second place, Charlie Lownsdale and John Wright; Third place, David Campbell and Paula Campbell
Best Overall
Charlie Lownsdale, with one first place and two second place trophies in the individual events.
A portion of the proceeds from the event were donated to the Foothills Land Conservancy, a group dedicated to the preservation of land at the foothills of the Smoky Mountains. This is also the group to which our club donated funds raised in the Healey Promotional Campaign Challenge, as reported in the May 1999 issue of Healey Marque.
To paraphrase Mae herself, it's not the cars in my life, it's the life in my cars. Congratulations to the winners who proved that these cars have plenty of life in them!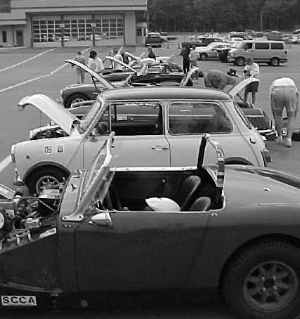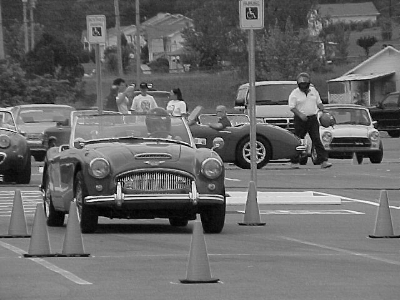 By David Campbell
The morning was beautiful – sun shining, promising a warm, perfect day for a top-down drive in our British cars to the Cumberland Plateau and specifically Rugby. We assembled at the Holiday Inn, two Big Healeys, a Miata, and Taz, my Midget, strong – all doers who have volunteered for what would prove to be a marvelous weekend. Doug and Barbara Smith, Bill Denton, Amy and Paul Turner, and myself (wife Paula was directing a high school drama event and would join us in the late evening), fired up the mellow engines, whereupon I led the group along winding Tennessee roadways, through Karns, Oak Ridge, Wartburg, Elgin, and onto the windy, frozen-in-time route to Rugby. The road provided an opportunity to stretch our suspensions and engines a bit until, rounding a curve and topping a hill we came upon a mishap involving a large piece of machinery that workmen were attempting to load onto a truck. This effectively halted all traffic in both directions, and caused a severe test of the British braking systems as I saw Big Healeys locking up behind me and everything working well, to all of our relief. The next 30 minutes or so proved to be a social event as we visited with one another in the middle of the roadway and discussed our vehicles with other stopped motorists who ventured forth from their vehicles to visit our impromptu British Car Show.
Finally released from the stoppage and reseated into our cockpits, we fired our way on to the English settlement of Rugby, our British exhausts reverberating among the buildings as if somehow our cars were home and belonged to the tradition of the place. Arriving at the attractive and secluded Gray Gables Bed and Breakfast, we were met and welcomed cordially by Innkeeper Linda Brooks-Jones. Our prepared luncheon of succulent chicken crepes and wonderful sides was a gourmet delight, exceeded only by the warmth of the company and the graciousness of the hostess. After lunch, we said our goodbyes to Bill, Amy, and Paul, who were not spending the night with us, and I and the Smiths fired up our engines and hit the road, driving westwardly through Allardt and on to a pre-arranged stop at the Highland Manor Winery, Tennessee's oldest winery. An informative and interesting tour there, complete with tasting of their fine wares, and a purchase of the evening meal's accompanying wine, and we were off once again on a wondrous drive over some of the most beautiful and lonely roads East Tennessee has to offer – traveling through Jamestown, north to the Big South Fork National River & Recreation Area, a stop at an overlook of the Big South Fork River, through Oneida, then back South to Elgin and a retrace of our earlier route westwardly into Rugby.
We arrived at the Gray Gables with an hour to prepare for dinner, an hour desperately needed, then to a scrumptious dinner, another gourmet's delight revolving around a hub of Roast Pork. The other guests with whom we dined were very interested in our purpose as we shared information about our cars. The evening slipped away quickly and most enjoyably – Paula arrived about 11:00 p.m. to enjoy her dinner which we had set back for her. Then to bed in very comfortable accommodations.
The morning found fragrant, firm coffee and a country breakfast that was to die for, and yet another group of guests very interested in talking about our cars. Shortly after, Paula left us for another play that afternoon, and I and the Smiths planned a cross-country curvy route home. Attempting to follow the route we discovered, luckily beforehand, that the route was rough, ran out of blacktop, and actually traversed some creeks. Not wanting to put our cars through that, we wisely retreated and followed a secondary route that placed us onto Interstate 75 for about 6 miles, then followed 2-lanes South back to Norris where we parted ways, bound for home.
In retrospect, the drive and the weekend were wonderful. Great roads, great company, great food, and driving the CARS! My only regret is for those members who missed this fabulous drive and camaraderie. Hope to see you there next time!
June 12-13 Triad Austin-Healey Club's British Car Days in Clemmons, North Carolina. Call 336-724-1417 for information.

June 14 Pub night at Sullivan's Restaurant.

June 20-25 Conclave in St. Louis.

July 3 British Car Gathering, Brevard, NC. Contact Bob Marcum at 828-883-9791 for information.

July 12 Pub night at Sullivan's Restaurant.

---
SMOKE SIGNALS

Smoky Mountain AHC Newsletter

Amy Turner, editor

126 S. Jackson Street

Athens, TN 37303-4711

Phone: 423-745-0309 or
423-920-0362

E-mail: ltturner@usit.net