SMOKE SIGNALS

Newsletter of the Smoky Mountain Austin-Healey Club

Knoxville, Tennessee

Amy Turner, Editor

Number 7 July 1999
Healey overload? Impossible! The week was wonderful, filled with happy experiences, encounters with new and old friends, and opportunities to drive, polish, play, and eat! From the gorgeous car show at Grant's Farm to the exciting speed runs at the Gateway International Raceway to the sheer silliness of trying to maneuver a remote controlled car around a mini autocross course, Conclave was nothing but fun! Y'all ready to try out the Brickyard next year in Indianapolis?
Upcoming Events

Date

Event

Where to Meet

July 12

Pub night

Sullivan's restaurant around 7:00 p.m.

July 31

Quarterly meeting

Home of Doug and Barbara Smith at
4:00 p.m.
In this issue…
Conclave Afterglow *
Doug's Drivel
*
Smoke Editions
*
Conclave 1999
*
Why So Many LBC's?
*
Map to Doug and Barbara Smith's House
*
July 1999 Calendar
*
Upcoming Events
*
The first day of summer has just passed and the days are now getting shorter. Before you know it Healey weather will be with us again and our glorious excursions will become more comfortable. We sure had a great spring!
As I write this, the St. Louis Conclave is taking place. We weren't able to go this year, but our club is being well represented. I'm sure Amy will have a report in this newsletter. Also, we expect to see some trophies brought back home!
Pub night on the 14th was again a great success with good attendance and wonderful fellowship. Hey! Maybe we should have our meetings at the same time. Just kidding, why spoil a good thing, right?
Anyway, Bill Denton came for the first time and Tom and Noelle Dean returned. Also attending was Judge Edwin Harris, who told his Healey story. He had so much fun, he wants to join, and we're happy to have him. And Gary gave a report on the Healey Sports Boat Club, to which we were all invited to become charter members!
July will be time for our quarterly meeting, and Barbara and I want to host a picnic and meeting at our house on Saturday July 31st at 4:00 p.m. (Just barely made July.) A map is enclosed for those of you who weren't here in '96. Or you can follow someone who was. You bring chips, dip, desserts, baked beans, potato salad, whatever else you want. We'll supply drinks, burgers, buns, condiments, and those famous Grainger County tomatoes. Please make plans to attend and RSVP by July 24th. Our phone number is 423-828-3922.
See you at Sullivan's on July 12th.
Happy Healeying,
Doug
They say you never forget your first. I hope it's true because my first Conclave was absolutely wonderful. The events were a hoot, the people were marvelous, even the weather cooperated most of the time. Hey, it's summer. You have to expect a shower or two now and then. For full details on this year's big event, see the article on page
*
of this issue.
I've owned my Sprite for two and a half years. In 1997 the International Healey Meet was in Park City, Utah, so I couldn't go. Last year's Conclave was in Michigan, but I was in the middle of changing jobs and I couldn't go. This year I almost didn't have enough leave saved up, but I worked a couple of holidays and scraped up enough vacation time. Thank heavens I finally made it!
If you haven't yet gotten to Conclave, here are my top ten reasons why you must plan to go to Indianapolis next year.
Indianapolis is as close as it will be for a few years. Minneapolis and Lake Tahoe will require a longer trek.
You get the chance to introduce hundreds of fellow motorists to the beauty of an Austin-Healey as you drive or tow the car to Conclave. Just make sure they don't run into you.
Sincerely interested listeners when you start to tell the stories of your latest Healey adventures.
An opportunity to note paint colors for that next repaint, restoration, or pinewood derby car.
It's either the first Conclave of a new millenium or the last Conclave of an old millenium. Either way, it's a major deal.
If something breaks, someone will know how to fix it. In fact, you may get 30 different opinions on how to fix it.
You can wear out your credit card at the regalia table.
You can honestly tell your friends that your car took off from Gasoline Alley at Indy!
2. So the Smoky Mountain Austin-Healey Club can win the club participation award.
You get to see Gary make "vroom-vroom" noises in front of a large crowd of people.
There are probably a million more reasons, but you get the idea. Make your plans now!
See you on the road!
Amy
Spectacular, exciting, beautiful, fun, delicious, entertaining, challenging, hilarious, thrilling, perplexing, exhausting, memorable, and glorious are but a few of the adjectives I could use to describe Conclave 1999.
We set out on Saturday, June 19, from Lenoir City in a convoy with the Lownsdales and their collection of cars. All the Sprites – mine, Charlie's, and Gary's racer – were on trailers, but Paulette drove her 3000 the whole way. The trip up went smoothly, with only a cloudburst around Paducah where we stopped for the night and met up with the Atlanta group.
We completed the drive to St. Louis on Sunday and found a growing crowd already queuing up at registration and greeting old friends. Passport Transport hosted a barbecue that night, and the socializing event began in earnest. The barbecue was terrific, but the real attractions were in the parking lot: scads of Healeys, big and small, even a Nash Healey, and a Healey boat display, featuring the Healey boat owned by John Hunt of California, and the gleaming Austin 55 marine engine belonging to Gary Lownsdale. Someday that engine will go back into Gary's Healey boat, but right now his boat is a pile of lumber in the midst of restoration. Once we'd admired all the Healeys, we took a peek inside the Passport garage and found an impressive collection of classic cars: Bugatti, Mercedes, and even a couple of Duesenbergs!
Monday's big event was the popularity show at Grant's Farm. The setting couldn't have been more beautiful. The land once belonged to Ulysses S. Grant and is now an attraction belonging to Anheuser-Busch. The Budweiser Clydesdales live there, along with a great collection of wildlife, from lemurs to camels to elephants. Some of the corrals had been cleaned out, and our wild little beasts were displayed there. Imagine green fields covered with a carpet of gleaming Healeys – gorgeous! As with most popularity shows, there was less voting going on than chatting and tech talk and questioning about the inner workings of Healeys. Even the threat of a small afternoon shower didn't dampen anyone's spirits. The most pleasant surprise of the day, though, was when I discovered Rick and Katherine Hayes had come to participate, even though their Healey is under restoration. Now, folks, that's devotion!
Tuesday saw the big speed event at the Gateway International Raceway. I'm not much of a racing fan, but while I was flipping channels a few weeks ago I came across a televised race from this track. It's absolutely thrilling to drive on the same track as the pros. I put three gallons of 100 octane racing gas in Healium – $12.00 worth! – and headed for the garage. After tech inspection, I lined up in the grid. We made a couple of parade laps to get acquainted with the road course layout, then each group of cars did a pace lap behind an Official Pace Vehicle. Each car got three laps: a warm-up, a speed lap, and a cool down. When my turn came, I warmed up and began my speed lap. I learned a lesson that day. When you let up on the throttle as you take a tight turn, all the weight shifts to the front, and the back end of your car is free to wander wherever it desires. The back end of my car decided it wanted to be in front of the front end. To put it plainly, I spun out on turn two, jumped a curb, threw up an impressive cloud of dust, and stalled my car. The car had had enough and chose not to start again. I think it wanted to humiliate me a little more. Meanwhile, Paul had heard the screech, seen the cloud of dust, and heard on the radio "Spinout on turn two." Nothing about whether the driver was OK, whether the car was upright, or whether to send the fire truck. Paul leapt into the van and did a little speed run, himself. By the time he got to turn two, Healium was off the track, bonnet raised, and some course workers and I were trying to cure the vapor lock that kept it from starting again. Long story short (too late for that!), I got a second run and managed to cross the finish line safely.
Wednesday was the day of the rally. Paul and I didn't participate, but Charlie Lownsdale found a friend to navigate, and they hit the road. I hear the countryside was beautiful, and the rally was just challenging enough to be fun. The pinewood derby was held that afternoon, and some of the younger Healey fans, along with the young at heart, took part in this miniature speed event. Gary and Paulette Lownsdale were the organizers of the pinewood derby, and they did a superb job of handling all the kids and reining in the adults. The best part of the pinewood derby, though, had to be the sight of Gary Lownsdale leading us all in a cheer that imitated the sound of a Healey on the racetrack: "Bbbbbbbbbbbbbbbbb…shift gears!….BBBBbbbbbbbbbbbbbbbbb….get your revs up!…..BBBBBBBBBBBbbbbbbb!"
The first banquet was on Wednesday night, and awards were presented for the speed runs, the pinewood derby, and arts and crafts. The Smoky Mountain Club made a good showing, with Charlie Lownsdale bringing home an award for his photography, Amy Turner winning the Senior class of the pinewood derby, and Gary Lownsdale taking first place in the speed run in his class, and fastest time of the day. But we weren't finished yet!
Thursday's events were the gymkhana and funkhana. An overnight rain had ensured an exciting gymkhana course, and the course was also graced by the presence of a big blue van whose driver had failed to move it the previous night. Until about 11:30, cars were running the course around the van; we just pretended it was a big blue cone. A tow truck eventually came to remove it. All the Smoky Mountain cars had good runs. Meanwhile, the funkhana was being run in another parking lot. The theme for the funkhana was "Throwing money at a Healey restoration," and it involved maneuvering around an M-shaped course, using both forward and reverse gears, and throwing Koosh balls at a target. Thursday afternoon was rounded out with remote control car races, organized by Charlie Lownsdale.
At the big awards banquet on Thursday night, the Smoky Mountain Club did well again. Amy Turner won third place in the Senior class of the remote control races, second in her class at the popularity show and first in her class at the gymkhana. Charlie Lownsdale won one leg of the rally, first in his class at the popularity show, and first in his class at the gymkhana. He also had the fastest time of the day in the gymkhana. IMPORTANT NOTE: The two "fastest time" awards were both won with Lownsdale-built engines!
On Friday we said our goodbyes to St. Louis as Gary and Paulette left for the post-Conclave tour, and Charlie, Paul, and I headed for home. The biggest event of the drive home was a stop at Lambert's Café, Home of the Throwed Rolls, in southern Missouri. We had spotted the billboards on our drive up and had to solve the mystery of whether they really threw the rolls at the patrons. The answer: Yes, they do.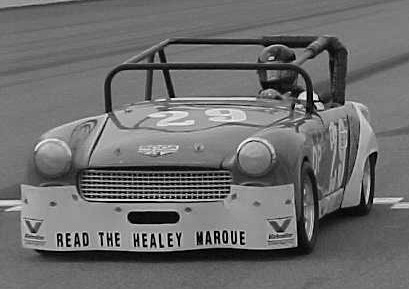 Eager, anxious, impatient, enthusiastic – I'm already getting my adjectives ready for Conclave 2000. See y'all there!
Gary Lownsdale takes his Sprite racer for a speedy tour of Gateway International Raceway.
By Scott Fisher
The Spridgets e-mail list recently pondered one of the great mysteries of British car ownership: Why do they multiply? Many of us started with just one car, but a few years later we have a collection. Just how did that happen? Scott Fisher offered some keen insight.
Several things have occurred to me throughout my years of LBC ownership:
1. The Car Wardrobe factor. Depending on how complex one's life is, it may become desirable to have separate cars, each optimized for different activities. For example, a Spridget is the perfect car for driving on sunny days through winding forest roads, the shadows through the sycamore leaves rippling and blending off the graceful curves of the fenders, the mixed exhaust note and gear whine echoing off the boles of ancient redwoods. Add some rain and cold into the equation, and an MGB-GT might reasonably be considered a better choice. Add snow and ice and, well, a Jensen FF gives you all wheel drive to keep the tyres planted in unplowed roads. Then there's the vintage race car, and while many vehicles could satisfy the itch, I'm partial (at least in my imagination) to the Lotus Seven in any of its variants. And you have to get that to the track (and to the machine shop and to the garage of your friend with the welding equipment and etc., etc., etc.), so you buy a sensible tow car like an XJ-S. No one of these cars could do all the things that the entire collection could do, and, well, you have to do all these things, don't you?
2. The I'll-drive-this-while-I-restore-that factor. We all know how THAT goes…. It starts when the throwout bearing fails on your beloved Spridget, and seeing as the entire car must basically be dismantled to get to the bearing, we realize we'll need ANOTHER car to drive while the first one gets taken apart and put back together. So we go out and buy a slightly ratty chrome-bumper MGB or something (can't be too nice or we won't be motivated to keep working on the Spridget), start disconnecting the flywheel bolts in the Spridget, and then the weather turns and it starts raining and we try to put the top up on the B, only to find out that it's basically more holes than top. So while the reasonable thing to do would be to go spend $250 on a new Robbins top, we go out and find a GT6 to drive while the weather's bad, figuring we'll do the B's top after we get the Spridget's clutch replaced (because you KNOW that as long as you've got the motor out to do the throwout bearing, you might as well replace the pressure plate and friction disc too, and as long as THAT'S out, you might as well rebuild the slave cylinder, and in the meanwhile the only actual WORK you've performed on the car is to disconnect the earth strap on the battery and loosen the starter bolts.) Then spring finally rolls around and it's just too nice to keep driving the GT6 any more, and you get an e-mail from somebody on the Spridgets list who is selling a clean Mk. III ("needs paint and carpets") for real cheap, and you figure that if you had another Spridget to drive in the nice weather, it'd make you hurry up on the clutch rebuild of your first Spridget (which already has nice paint and carpets), on which you've now done the added bonus work of pulling the wire from the coil to the distributor to make it easier to pull the engine any time now (and you figure you can bring home the engine hoist from the rental agent's in the back of the GT6, after all, when you get a free weekend). At one point, this line of reasoning led to my owning a '74 Midget, a '67 Morris Mini Traveler, a '67 Lotus Cortina, a '59 Bugeye Sprite, the transaxle out of a '69 Austin America, and, of all things, a then-new Ford Mustang SVO – which was the least sensible American sporty-muscle-oid car that it was then possible to acquire. Made cool whoop-de-whoop noises when you shifted, though.
3. The fact that we're all bloody lunatics. Ever see "Braveheart"? You know the scene where Stephen, the Irish mercenary, introduces himself to William Wallace, says "Besides, I'm crazy," and Wallace, Hamish, and his other lieutenants give each other sidelong glances, and then little by little everyone in the circle of men starts laughing this weird laugh of brotherhood?
Yep, that's us.
Map to Doug and Barbara Smith's House
July 3 British Car Gathering, Brevard, NC. Contact Bob Marcum at 828-883-9791 for information.

July 11 13th Annual British Car and Motorcycle Show, Edgewater Sports Park, Cincinnati, Ohio. Contact Jon Andorn, 513-856-7777

July 12 Pub night at Sullivan's Restaurant on Northshore.

July 31 4:00 – Quarterly meeting and barbecue at the home of Doug and Barbara Smith. RSVP by July 24th at 423-828-3922. Don't forget to bring a side dish!

August 9 Pub night at Sullivan's Restaurant on Northshore.

August 18-22 Encounter '99, annual meet of the Austin-Healey Sports and Touring Club, Chateau Resort, Tannersville, PA. Call Tom Mantz at 610-791-1171 for details. Editor's note: If you missed Conclave, here's your next chance for a great Healey meet! Or you could wait for…

Sept. 23-26 Southeastern Classic XIII, Hiawassee, Georgia. Contact Sam Marble at 770-972-8747 for information.

---
SMOKE SIGNALS

Smoky Mountain AHC Newsletter

Amy Turner, editor

126 S. Jackson Street

Athens, TN 37303-4711

Phone: 423-745-0309 or
423-920-0362

E-mail: Ltturner@usit.net