SMOKE SIGNALS

Newsletter of the Smoky Mountain Austin-Healey Club

Knoxville, Tennessee

Amy Turner, Editor

Number 11 November 1999
Where has 1999 gone? Thanksgiving is just around the corner, then there's Christmas…oh, and we'll have to ring in the New Year in a big way! First things first, though. My Thanksgiving list will include the wonderful times I have driving my Healey, the satisfaction of fixing what breaks, the smiles on the faces of people we pass (or who pass us!), and the great friends we meet who share in our enthusiasm.
Upcoming Events

Date

Event

Where to Meet

Nov. 6

Quarterly Meeting

Perkins, Strawberry Plains Pike, 12:30

Nov. 8

Pub Night

??? Find out at the quarterly meeting!
In this issue…
Thankful for Healeys *
Doug's Drivel
*
Smoke Editions
*
For Sale
*
SCCA Racing Update
*
CLUB OFFICERS: "SPARKPLUGS"
*
Southeast Classic Lives Up to Its Name
*
November Calendar
*
Upcoming Events
*
I'll admit it. I can't think of enough adjectives or superlatives to describe the drive October 17th on the Cherohala Skyway. But here come just a few, anyway! Colorful, wonderful, dazzling, marvelous, breathtaking, striking, prodigious, stupendous, fascinating, spellbinding, and incredible. It was also great fun.
Those of you who didn't go might think I exaggerate, but at different times during the day, it really was all those things. However, Amy may have prophetically said it best in last month's Smoke Signals – "Glorious days, multicolored leaves skittering in my wake as I wind down the road in my machine. This must be what Heaven is like." My congratulations to Bob Ricker for planning such a nice drive and to Mother Nature for confounding all the "expert" weather people and giving us an absolutely Healey perfect day.
Don't forget our next meeting November 6th at the Strawberry Plains Perkins Restaurant. We will elect officers at this meeting, so mark it on your calendar now. We realize the Notre Dame game is that day, but it's scheduled for 7:30, and you can give full attention to both events. Also, as Amy mentioned in the Special Edition, we have some other important issues to discuss.
By the way, I understand Mark Whitt is going to do a tech session for us real soon. That will be very informative and something else you won't want to miss.
'Til November 6th,
Happy Healeying,
Doug
Excuse me, but isn't this November? Isn't this the time when our club activities should be winding down, when we take a break for the winter, when we relax and look back over the pictures of the fun we had in summer, when we work on our cars in the warmth and safety of the garage to prepare them for next year? Well, I thought so. I mean, that's what the calendar says. There's just so much going on, though. There was a wonderful October Pub Night, and I was finally able to join the group for the first time in months. There was the spectacular drive that Bob Ricker led on the Cherohala Skyway. We have a big quarterly meeting coming up. More Pub Nights, a Christmas party, events to plan, tech sessions in the works…this is a happenin' club!
Let me echo Doug's sentiments and tell you that the Cherohala Skyway drive was beyond words. The day was perfect, neither too cold nor too hot. The road had to have been built for little British cars. Someone told me that one stretch of road had over 300 curves in eleven miles. (We made the most of those curves, too!) The picnic area was beautiful, with a mountain stream beside it. The company couldn't have been better. In addition to a good turnout from our club, we were joined by an equal number from nearby British car clubs, driving their MGs and a magnificent Jaguar. I'd say it's one of the best SMAHC events I've ever attended!
The upcoming quarterly meeting is going to be an important event. We'll be discussing some big questions that will determine the direction our club takes in the future. With this meeting approaching, I thought it was a nice coincidence that the problem of club apathy recently appeared on my Sprite e-mail list. Here are a few quotes that may provide food for thought.
"We are lucky to get 10% at events that involve the cars. We have a core group that attends everything and quite often they are the only ones that show."
"Have you tried a participation award? One group I am in gives out a hat if you participate in a minimum number of events per year."
"Our best attended car events are simple ones like a poker or clue ralley. I suspect this is because we usually have free food and drink at the end. These typically draw better than just plain driving tours."
There were sad stories of clubs that disintegrated and encouraging stories of clubs that only got better. I'm convinced that ours will be one of the latter. If it's been a while since you've made it to a club event, though, give us another chance. We're just getting better all the time!
See you on the road!
Amy
Four new 72 spoke 15" painted wire wheels, $675.00. Four new chrome 15" wire wheels with four new Michelins mounted $1,200.
Also, a few used big Healey parts.
Bob Ricker, 873-2005 pager.
By Gary and Paulette Lownsdale
Has anyone tried to find the Lownsdales on a Sunday? When they weren't taking part in regional and national Healey meets this summer, they were racing their two Sprites and the BJ7 in SCCA Solo competition. Remember when Gary took fastest time of day at the Gateway Raceway and Charlie took fastest time of day at the autocross at Conclave in June? Well, the competition has only gotten tighter since then. Charlie and Gary are battling it out for top honors in the D-Prepared class for the East Tennessee Regional Championship. After ten regional races, Gary's Sprite racecar was ahead of Charlie's black street prepared car by only one point, with two race events remaining. Gary did not make it back from the Southeast Classic meet in time for the eleventh race, so Charlie has now pulled into the lead by eight points. If you are around the Greenville area on October 17, make sure you stop by the Five Rivers Manufacturing Plant on Industrial Road and watch the big shootout for top regional honors between Gary and Charlie. Gary has a new transmission and he is raring to go. Charlie says that it is no contest – that youth will prevail.
Editor's note: The results are in -- youth prevailed!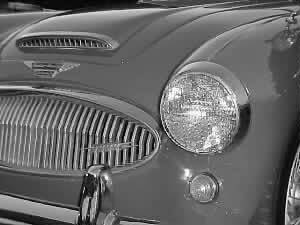 Paul Fournier's car…up close and personal.
President
Doug Smith
Rt. 3, Box 535C
Rutledge, TN 37861
423-828-3922
Vice-President
Bryan Broadhead
215 Sugarwood Drive
Farragut, TN 37922
423-966-7098
Secretary/Editor
Paul/Amy Turner
126 S. Jackson Street
Athens, TN 37303
423-745-0309
423-920-0362
ltturner@usit.net
Treasurer/membership
Rick Hayes
9024 Tall Timber Drive
Knoxville, TN 37931
423-531-7174
Tech Chairman
Bob Ricker
9108 Montague Lane
Knoxville, TN 37923
423-694-6086
External Events
Bill Denton
807 W. First St., No.
Morristown, TN 37814
423-587-1982
Club Historian
Richard Miller
9705 Bob Gray Road
Knoxville, TN 37923
423-694-4435
AHCA Delegate
Paulette Lownsdale
417 Shawnee Place
Loudon, TN 37774-3164
423-458-0993
Southeast Classic Lives Up to Its Name
By Gary and Paulette Lownsdale
When the Atlanta Region throws a party, it is in classic Healey fashion! This year's Southeast Classic Meet was held September 23 through 25 at Lake Chatuga Lodge, nestled in the foothill mountains of northern Georgia. The Lownsdales and the Rickers represented the Smoky Mountain Region. The drive to Lake Chatuga took us along beautiful winding mountain roads from Cleveland along the Ocoee River, and past the site of the 1996 Olympics whitewater course.
Friday events started early with registration and a get together breakfast followed by a beautiful rally drive through the mountains. With nearly 80 cars at this year's event, the hills seemed to be alive with the pure sound of Healey exhaust music in the crisp damp air. Those participants wishing to have a unique event memento were able to request Showcase Photography to photograph their car in front of Lake Chatuga and then have it mounted on a participation plaque. This was a great idea and a nice way to make sure that everyone took home a fond remembrance of the event.
Friday afternoon was filled with a flurry of activity at the garden hose getting the Healeys bright, shiny, and clean for the popularity show the next day. Friday evening ended with an outdoor barbecue and a series of introductions by the Atlanta group followed by an Emmy deserving skit by next year's host group from the Carolinas. The hospitality suite was alive that night with everyone getting their "mug shots" taken with Hendrix Wire Wheel host's complimentary mugs. The raffle tickets were being sold by the yard and the raffle prizes were still being handed out up to the witching hour. Gary once again won more than his share of the raffle items that night.
On Saturday morning, brisk temperatures in preparing for the Popularity Judging greeted the group. The Healeys looked grand displayed on the hillside parking areas with Lake Chatuga and the mountains as a backdrop. John May displayed his immaculate Healey Sportsboat, which he had recently imported from Amsterdam. This boat is Hull Number One of the 16-foot series of Healey boats, and was displayed along with the original water skis. Bob Ricker was presented with a plaque for the Best Red Healey at the award presentation that evening.
The group traveled into town to the local high school parking lot in the afternoon for the autocross and funkhana competition events. The autocross was fun and challenging, but Dave Steiger had laid out the course so well that not one pylon was knocked over all day. Paulette Lownsdale in her BJ7 took an off-course excursion on her first run, but came back on subsequent runs to take the First Place in Ladies Big Healey class award with a run envied by most of the male participants. Gary Lownsdale drove Paulette's BJ7 in the corresponding men's class, with a stern warning not to break her car. The men's class was close with five drivers clustered within five seconds of the fastest time. At the end, Gary emerged with a 4th Place trophy in the Men's Big Healey class.
Across the parking lot, the Funkhana was providing an entertaining way to demonstrate the drivers' parallel parking skills and the navigators' ability to change a distributor rotor on the run. The bugeye Sprites demonstrated once again their advantage at parking nose first at speed and running away from the big Healeys. Once the dust settled, Paulette and Gary settled for a pair of 5th Place Overall trophy awards.
The banquet was a superb opportunity for socializing with other southeast region participants, and the food was excellent. Each table had been decorated for the occasion and the centerpiece became a surprise gift item for each table's lucky winner. After dinner, the awards were presented back at the hospitality suite. Partying, more raffle presentations, socializing, and finishing off the liquid refreshments and the homemade desserts were the activities that took us into the wee hours.
The southeast region delegates' meeting was held that evening, which the others partied, to plan the next three years' worth of southeast fun. The 2000 Southeast Classic will be held at Myrtle Beach, then on to Middle Tennessee in 2001. For the 50th anniversary celebration of the Healey in 2002, our own Smoky Mountain Region has been requested to consider sponsoring the event at Townsend. Let's start planning now for a great anniversary celebration in our region's beautiful backyard!
Nov. 6 Quarterly meeting and election of officers at Perkins on Strawberry Plains Pike, 12:30.
Nov. 8 Pub Night. Attend the quarterly meeting to find out where!
Dec. ??? Christmas party! Watch for details!
---
SMOKE SIGNALS

Smoky Mountain AHC Newsletter

Amy Turner, editor

126 S. Jackson Street

Athens, TN 37303-4711

Phone: 423-745-0309 or
423-920-0362

E-mail: Ltturner@usit.net