SMOKE SIGNALS

Newsletter of the Smoky Mountain Austin-Healey Club

Knoxville, Tennessee

Amy Turner, Editor

Number 12 December 1999
Drumroll, please! Ladies and Gentlemen, allow me to present the next President of the Austin-Healey Club of America, your friend and mine, member extraordinaire of the Smoky Mountain Austin-Healey Club, loved by children and dogs, doesnít smoke, doesnít chew, doesnít hang out with kids who doÖGary Lownsdale. Gary was selected at the delegates meeting on November 14, 1999, and he officially takes office on February 1, 2000.
Upcoming Events

Date

Event

Where to Meet

Dec. 4

Brits and Grits Drive to North Carolina

Alcoa Wal-Mart at 10:30 a.m.

Dec. 13

Christmas Party!

Sullivanís Restaurant at 7:00 p.m.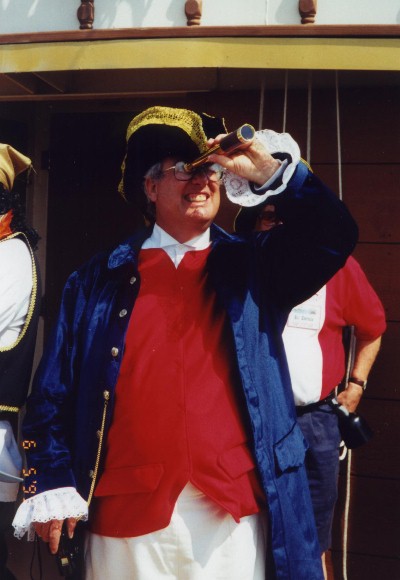 Commodore Gary looks forward to a bright future
for the AHCA.
In this issueÖ
Our Next National President *
Dougís Drivel
*
For Sale
*
A Healey Holiday Song
*
Quarterly Meeting
*
SMAHC Online
*
Brits and Grits Drive
*
Old TV Star Comes Out of Retirement
*
An Interview with the Prez
*
December Calendar
*
Upcoming Events
*
Weíve had no drive since the last Smoke Signals, therefore I wonít be able to use my limited space and run out superlatives to try to describe how wonderful it was. We might need to think about planning more Fall and early Winter drives since we donít do any in the Summer. Just a thought. [Editorís note: Check out the Brits and Grits drive that Bob Ricker is planning on December 4th!]
Speaking of superlatives, I did just get some great news from Paul Turner. One of our own, Gary Lownsdale, has just been elected president of our national organization, the Austin-Healey Club of America! Iím sure youíll hear more about that in this edition of Smoke Signals, but Iíd just like to say that I know of no one more deserving of that honor. Gary is the most knowledgeable person I know in BOTH the history of our much-admired marque AND the technical, nuts and bolts side of the car. He has also given lots and lots of his time to the AHCA as well as to our local club. Congratulations, Gary!
As I am now a lame duck, I would like to also offer congratulations to our new officers; especially to Bryan Broadhead who takes over this position. As our club continues to grow, I'í confident that it will also get better under their leadership.
I would also like to thank all of you for accepting me so readily into the club, and for the wonderful support youíve given me these last two years. Yes, I know I have one more month in office, but I felt like saying that now!
See you at the Christmas Party,
Doug
Emilio is looking to sell his 2-seater and buy a 4-seater, so his 1960 BT7L is for sale. The exterior is maroon and black; the interior is black with red trim. Recently rebuilt motor and transmission. New wire wheels, good tires, have side curtains and top. Runs great and look even better! Asking $19,000.00.
Call 423 / 966-7133 or e-mail N611EV@aol.com
By Paul Turner
(Sung to the tune of Rudolph the Red-Nosed Reindeer)
Rudolph the red-nosed Healey
Had some very shiny chrome.
Daddy was spending freely,
Until we almost lost our home.
All of our friends and neighbors
Think that heís gone off the edge.
Daddy was testing the brakes
And ran over the neighborsí hedge.
Then one foggy Christmas Eve,
Daddy came to say,
"I finally got the car to run,
But it got towed away."
The banker, he repossessed it,
And Mommy shouted out with glee,
"Itíll be over my dead body
Before he gets another Healey!"
The Smoky Mountain Austin-Healey Club met November 6th at the Strawberry Plains Perkins Restaurant for the Fall Quarterly Meeting, with 19 members attending. Here are the issues that were discussed and voted on.
The treasurer reported that we have approximately $600 in the treasury.
Rick Hayes suggested that membersí e-mail addresses be published in the newsletter for ease of communication within the club. In addition, Amy Turner volunteered to create a mailing list on the Internet so that all members who were interested could communicate to the whole group at once. Details follow this article.
Bill Denton discussed the possibility of the SMAHC organizing the car show at the Dogwood Arts Festival. The show would be run by a collection of car clubs with the SMAHC being the coordinator. The matter was voted on and passed. More details will be forthcoming.
Mark Whitt in Morristown has offered to present a tech session. This event needs to be scheduled, and details will appear in a future newsletter.
The Smoky Mountain Austin-Healey Club has been invited to host the Southeastern Classic in 2002. This measure was voted on and passed unanimously.
The slate of officers for the next year was presented and voted on. The officers for the next year are as follows:
President Bryan Broadhead

Vice-President Bill Denton

Secretary Paul Turner

Newsletter Amy Turner

Treasurer Rick Hayes

National Delegate Paulette Lownsdale

Technical Chairman Gary Lownsdale

Historian Rich Miller
Rick Hayes made the motion that Pub Night be moved from its present location at Sullivanís Restaurant to Jackís Pub. The motion was not seconded. A separate motion was made that a steering committee meet at Jackís Pub to consider it for the Christmas Party and that a new vote be taken in January to move Pub Night. This motion was seconded and carried. Follow-up: The steering committeeís decision is that the Christmas Party will be at Sullivanís on the second Monday of December because Jackís is booked for December. The steering committee was impressed with the new location, though, and will present their findings at a future meeting.
Amy Turner moved that the May West Knoxville Driving Challenge be scheduled again in 2000 and that Amy, Paula Campbell, and Paulette Lownsdale be the organizing committee for the event. This measure was voted on and passed.
The motion was made that other British car clubs be added to our newsletter distribution list. The motion was voted on and carried.
Dave Berry pointed us to
http://www.carscene.com
, a helpful web site for car sales, auctions, parts, and such.
As mentioned in the previous article, the club agreed to publish the e-mail addresses of members who are Internet-enabled and willing to share that information. Here are the members who chose to participate.
If your name and address donít appear on this list, please e-mail it to Amy Turner at the above address.
Also, there is now an e-mail list for SMAHC members at
http://www.onelist.com/community/SMAHC
. The way this sort of list works is that you send your message to a central address,
SMAHC@onelist.com
, and your message is received by all members of the community. Only members can send and receive messages to the community, though, so be sure to join. This will be a great way for the club to keep in touch, especially about last-minute plans, drive cancellations, announcements, and such. See you online!
Bob Ricker is ready for a drive! He did a spectacular job on the last one, so if the holiday bustle is getting the better of you, meet Bob at the Alcoa Wal-Mart at 10:30 on Saturday December 4th and prepare for a scenic drive through Townsend and the Smokies to Cherokee, NC. Bob says if we canít find grits, we may have to wing it Ė chicken wings, anyone?
Invite your friends and drive any car you want!
Old TV Star Comes Out of Retirement
By Paul Turner
Throughout the history of television there have been many stars whoíve come and gone. You know, stars like Gary Coleman or the entire cast of The Love Boat. The same can be said for many cars, too. For example, the star of My Mother the Car retired to a museum in Gatlinburg. I think itís a big shameÖwell, except for the part about Gary Coleman.
Itís not often that one can have a hand in saving one of these fallen stars from their fate, but I was lucky enough to do just that.
In 1984 I was the production supervisor for a Nashville Network called I-40 Paradise. We needed a car for a new set we were building to serve as Sonnyís Garage. Sonny was the mechanic on the show that centered around the small-town antics in Crab Orchard, Tennessee. We were in a rush, as usual, and the art director noticed that the director/producer drove to the set every day in an Austin-Healey 3000. The grip crew unceremoniously pulled the car onto the set, using the excuse that the director had been complaining that the battery wouldnít charge. The Colorado red BJ8 was sprayed down with dulling spray because the finish was too shiny and would cause a flare on the lens of the camera.
And there it sat for four years.
As the show progressed, the 3000 was slowly dismantled as the actor who played the mechanic wanted it to look like he was doing something to the car. Those of you whoíve had your car restored might recognize the pace at which he worked.
At the time, my thoughts were along the lines of "Wow. Itís an Austin-Healey. Whatís our next shot?" It was a prop, and the Healey marque meant nothing to me back then.
Fast forward to 1997. I had married my beautiful bride and she had decided that she absolutely had to have an Austin-Healey. We acquired her Sprite and started attending British car shows. I ran into an old friend from the crew who told me that old 3000 was too far gone to restore. It had gone back home with the producer and had sat in his yard and garage until it was "pretty much a pile of rust."
In September of 1999 I had a meeting with that infamous producer and the subject of the car came up. Yes, he still had it, and heíd thought about restoring or selling it. I made an appointment to go see it, and found that it wasnít a pile of rust, but it did look like it hadnít been started for 15 years. The finish was still layered with dulling spray, some of which I had applied myself. The best-looking parts of the car were the tires and wheels. The producer had recently used the car in a commercial for an auto parts chain and got the tires and wheels into a photogenic condition. As long as you didnít look at any other part of the car, it looked like it was in showroom condition!
We dickered, he stalled, I waited, he muttered about his "lost youth," and I finally put the money in his hand and got my posse, Gary and Charlie Lownsdale, to help me get the car out of there.
What does the future hold? Iím planning a comeback for this forgotten star. Performers are known for being vain, so after this one has spent some time at the automotive equivalent of the Betty Ford Clinic, Iíve got a nice vanity plate in mind: TV PROP.
I was honored to be the first to interview Gary Lownsdale after his election as the next President of the Austin-Healey Club of America. We met at the Cracker Barrel in Sweetwater, and the questioning began soon after heíd ordered his meatloaf and mashed potatoes.
Smoke Signals: First of all, how does one address the President of the Austin-Healey Club of America?
GARY: Well, youíll remember from the boat club I was Commodore and Lord Admiral of the High Seas, so the proper title was Mílord. So now itís Mílord and Hey Prez. Actually, itís Gary. Even when I was CEO of MasterCraft, I was Gary. A few people called me Mr. Lownsdale, but I corrected them.
SS: All right, Gary it is. What do you think is the appeal of the Austin-Healey? Why do people love them?
GARY: Weíve owned over 150 different British sportscars in our lifetime, and we always keep coming back to the Austin-Healey. Number one, it is a work of art. The styling and design of the car has withstood the test of time and has now become a classic shape of British sportscars. It is a beautiful piece of art to look at. It doesnít matter what color it is, what trim it has, what model it is, every Austin-Healey built is beautiful to look at.
The second aspect of it is that the Austin-Healey is the most fun to drive. The sound of the exhaust, especially on a cool fall morning, thereís nothing to compare to it. The handling of a Healey on a twisty, windy roadÖitís not as nimble as a Lotus, but itís a very comfortable touring car. Itís a nice car to drive because of its high torque, large 3-liter engine, which makes it a fairly easy car to drive, and yet it has enough torque to let you know that it has power under the hood. So you have a piece of art thatís fun to drive and enjoyable to take out on the road.
The third aspect of it is the social one. Individuals who own Austin-Healeys are rather unique in that they not only love the car, but they like to meet other people who own Austin-Healeys, as well. And not only other owners, but if you drive an Austin-Healey on the road, you automatically make friends. Every traffic light you come to, every parking lot you pull in to, someone comes over and says, "My brother/my roommate/my next door neighbor/I used to own an Austin-Healey." If you think about it, if every one of them truly were associated with an Austin-Healey, there would have been millions of them produced, but itís the kind of car that everyone identifies with.
And how many people have you ever seen driving an Austin-Healey who werenít smiling? It is a car that forces you to smile. At Conclave, if you saw people running a rally, autocrossing, running a speed event, any time they were in the car they were smiling. You could see them smiling through their helmets. Coming down the straightaway at Gateway International, you could see all the teeth flashing.
The other thing that makes the Healey appealing is that itís affordable. We shouldnít overlook that. This is a classic sportscar that, even today, you can buy a very, very nice example for less than the price of a new automobile. Even though the cars have even increased in value over the years, they are still affordable and the parts are available, and theyíre easy to work on. So itís a perfect hobby car.
SS: Youíve been a member of the Austin-Healey Club of America for over 22 years. What are some of the highlights of what the club has accomplished during that time?
GARY: The club has grown from being a collection of people who owned Austin-Healeys and wanted to get together on weekends to share experiences to something that is a full service organization, global in nature Ė itís now left its legacy in the Austin-Healey history.
The thing Iím most impressed with is how many activities have all been folded into this organization over the last twenty years. The club has grown through the individual interests of the club members across the country. As those interests changed, the club has changed, as well. We can remember the first Conclave we went to Ė everybody could enter their car in concours judging, just to see how original it was. You had a rating sheet, and that allowed you from one year to another to improve your car. That was kind of fun! Concours was totally different from what it is now Ė very formal and specialized. There is part of the club that is very interested in concours-type car preparation and judging. In the early popularity events, there really werenít enough cars to fill all the classes. In fact, for a long time we didnít even see any Sprites. The Sprites started to show up in the early- to mid-80ís.
We didnít run autocrosses at the first few Conclaves. We did do funkhanas because that was sort of the traditional sportscar event. But as more and more people started driving the cars and modifying them for street performance, then autocrosses became more popular.
The social aspect has always been there. We belong to 15 different marque clubs all across the country, everything from GTOs to Dodges to Triumphs to Lotuses and everything else, and what weíve found is that the one aspect of the Austin-Healey Club of America that continues to stick out in our minds is the social aspect. And that is [attributable to] the people themselves. This is a great bunch of people. They enjoy not only the cars, but also the history of the cars. They share a common bond in being a particular type of individual that likes to drive a certain type of car in a certain type of way and have a good time with each other. As a result, over these 20 years we have met many good friends. The last ten years, we have vacationed with about 20 couples every year on the post-Conclave tour, and we now look forward to that. What other organization can you name where you develop lifetime friendships within the organization that you take vacations together, you spend weekends together, and as you travel around the country you stop at each otherís houses? You get to know them Ė not just their car, not just their car activities Ė but also their families, their children.
The other part of the AHCA that makes it so unique is the association with the founding family. What has always been unique about this is that the entire business was wrapped up in Donald Healeyís extended family. All the members of the family were, at one time or another, associated with his business activities, whether they be cars or boats or any other venture he got into. They were given the opportunity to be drawn into it. So over the years, weíve also been given the opportunity to meet Donald Healey, Geoffrey Healey, talk to them personally, which is a phenomenal experience. Besides Geoffrey, there are Bic and John. With Geoffís passing, weíve also gotten to meet Margo, their two children, and now weíre starting to meet their grandchildren. And the grandchildren are taking interest in the people that now are driving the cars. Itís now down to the third generation of Healeys. The original designer is still with us, Gerry Coker. Roger Menadue, chief engineer, chief mechanic is still with us. Stirling Moss drove every kind of Healey imaginable.
SS: The club really does have a rich history, but whatís ahead of us? What challenges do we face?
GARY: One challenge is that the club has 3606 members on a worldwide basis. This is now a large organization that is carrying the banner for the preservation of Austin-Healeys, as well as having the responsibility for carrying the information about what Healeys are to a younger generation. One of the things that we always have to be sensitive to is that these cars were built and used in the 1950s and 1960s. Those of us who are interested in them now are typically second generation to that. We saw the cars at the time and thought, "Wouldnít it be cool to own one of those," and then when reached a point in life where we could afford it, we bought them. However, the average age of our membership is now also climbing. And I think itís very important that we carry on the legacy of Austin-Healeys by passing that on through knowledge, information, and invitation to the next two generations that are coming up to ensure that these cars donít suddenly end up in garages or museums and not being used. These are cars that are meant to be driven Ė thatís what Donald Healey said.
SS: Do you consider that a point against concours restoration?
GARY: No, absolutely not. Concours restorations have a very specific purpose, and that is to preserve the history of what the car was when it left the factory. I think the concours group plays a very important role in any organization, especially the Austin-Healey Club -- they are responsible for preserving part of our history.
SS: Are there any other challenges facing the club?
GARY: Right now there are still a large number of Austin-Healey owners and enthusiasts that arenít being serviced by any organization. These are individuals that were either part of another organization at one time, or even part of our organization, that dropped out or the car changed hands, and for whatever reason, they no longer are active participants. And their car does not have the opportunity to be exposed to a collective group with similar interests. I think over the next few years what we need to do is to actively seek out those uncommitted individuals and bring them into the Austin-Healey Club of America.
SS: I would imagine there are even some who arenít even aware that the club exists.
GARY: Thatís true, and especially those who are Sprite owners. I see an awful lot of Sprites that are being sold, changing hands, and most of them are among young people. Itís also been my experience that within the Austin-Healey Club of America, the Sprite owner, at some point, usually buys a big Healey Ė to supplement the Sprite. That, I think, is a source for future growth of the club. There are still a great number of big Healeys that are sitting in garages that arenít being used on an active basis. Recently on the Healey newsgroup there was a string called "Deadbeat Owners," concerning Healeys that are sitting in driveways and yards, not being restored. I think itís important that we locate those cars and match them up with owners, as we've done with Healey boats. We should be doing the same thing with the cars, creating a communications network. I think that the Internet, our web site, and our communication links that we already have in place can be further enhanced to provide that kind of a message board for matching up cars and owners.
Another challenge is that, as we approach the 50th anniversary, we have a great opportunity to leave a legacy for all the people coming after us that own Austin-Healeys. And that is for that golden anniversary to be able to leave a mark that is clearly Austin-Healey Club of America. And I think we need to think very hard about what we want to do along those lines.
One of the things that we did last year with Healey Marque is that we took a much more of a businesslike approach to the advertisers and to the running of the operations of Healey Marque. And as a result we were able to increase our advertising revenue by 50%, so we brought in $30,000 against a $20,000 budget. What that means is that the magazine was able to put improvements in, add additional color, and expand its size at no increase in dues costs to the members. We can take that same approach and apply it to all aspects of the clubís organization. I think that the time has come, weíre large enough now, our budget is significant enough that we need to take a business approach as far as our income and our expenses. We need to look at the line items much more carefully and look for other opportunities to bring income into the organization to help us with our projects. I think we should try to hold the line on dues, which are appropriate at the current level, but there are other ways to fund the kinds of projects that we want to go forward with.
Finally, I think that over the last several years there has been a disruption in the Austin-Healey Force, if you want to call it that, on a nationwide basis. Approximately 10 years ago there was an effort made to consolidate all the Austin-Healey organizations into one. That produced some very good results that came out of that exercise, and it also produced a division among some Austin-Healey owners elsewhere in the country. We have an opportunity to put those differences aside and to bring Austin-Healey owners and enthusiasts all together, focused on the car, the carís history, and the people who made the car. I think itís time to realize weíre all part of one community, and that is the dedication to the preservation and enjoyment of Austin-Healey automobiles.
And Iíve already started to do this Ė I want to make an effort in my business travels to get around and attend as many meetings as possible and meet with the grassroots members. What are their concerns, what information do they need, what communication do they need, and what are their thoughts about what we need to do as an organization over the next few years? We do have a board of delegates that provides input to the national officers, but I would like to actually meet a lot of the members that we donít see at Conclaves and board of delegates meetings, and give them an opportunity to provide direct input. Also, I intend to have my e-mail address listed publicly, and I encourage anyone to contact me and communicate with me. Iíll do my best to communicate back to them.
SS: Is there anything else that you as the next President of the Austin-Healey Club of America want to say?
GARY: In any organization, there are always geographic and cultural differences when youíre this diverse and widespread. The challenge of an organization is to be able to listen closely, hear the needs and the desires of every aspect of the club, and to filter those down to the collective needs and desires, and then to act on those. Too many times, special interest groups in any organization overly influence what occurs at a national level, and as national officers we have an obligation to keep our ears open, our minds open, and listen to what the 3606 club members are wanting this organization to be. And then to formulate strategy and a set of tactics to be able to lead this organization forward in the future rather than allowing it to stagnate or, worse than that, allowing it to deteriorate due to dissention. Thatís going to be a priority for the next year, to identify what are those collective needs and how those should be applied in a long-term strategy for this organization.
Dec. 4 Brits and Grits drive to North Carolina. Meet at the Alcoa Wal-Mart at 10:30

Dec. 13 Christmas party at Sullivanís Restaurant, 7:00.

---
SMOKE SIGNALS

Smoky Mountain AHC Newsletter

Amy Turner, editor

126 S. Jackson Street

Athens, TN 37303-4711

Phone: 865-300-4553 or
423-745-0309

E-mail: Ltturner@usit.net