My, my, where do I start? First, let me thank Doug and Barbara for two great years of your leadership of this club. You did a great job in bringing us up "to the next level" as they say. My goal is continue the growth and maturing of our still relatively new association. I truly want this to be a club where almost anything goes, combined with a structured series of well-planned entertaining events. Let's be creative in the activities we participate in, while at the same time we'll continue those tried and true events that bind us together and give us an "I can't wait 'til we do this next year" mentality. I think we planned the structure for a very well balanced year at our January planning meeting. However, plans are for guidance; let's have a series of impromptu events during the year. If you hear of something you'd like to do, either use the e-mail list to invite everyone, or call Amy to put it in the newsletter calendar, or just pick up the phone and make up a crowd.
For those of you that haven't heard, the engine for my Healey is now in Tennessee after being held hostage for 6 ½ years in Georgia. I hope to put an end to the Georgia saga for the remainder of my car in the next couple of months. I'll try to write a complete story of my adventures then, as I'm sure it provides ample examples of what not to do when buying and restoring a Healey. The engine is in Rick Hayes' garage while awaiting some preliminary tests. We hope to go a few rounds with it in the next couple of weeks. Watch for an announcement on the e-mail list or give us a call if you'd like to observe and/or lend a helping hand.
Our next event is pub night at Sullivan's on February 14. The rest of February is open due to the weather uncertainty, if you have any ideas and the weather is good, just get the word out and… Let's go Healeying!
Bryan
New in box, Monza exhaust system for big Healey. Retails for $200.00. Bob's price is $179.00, including shipping. Bob says, "The one on my car has been going for 16 years and is still in great condition."
WANTED: Grille surround.
Contact Bob Ricker, 423-873-2005, pager, or 694-6086, home.
The combined quarterly meeting and planning meeting was held at Rick and Kate Hayes' home on January 8th.
Following a lovely lunch provided by the Hayes, outgoing president Doug Smith called the meeting to order and turned it over to incoming president Bryan Broadhead. Bryan led a round of applause to show our appreciation for the great work that Doug and Barbara have done, then sketched out his goals for the coming year.
He hopes to keep our schedule fairly flexible to allow for informal gatherings and drives.
Our monthly Pub Night has worked out very well and should continue.
The May West event had a good start last year and should continue. The rally was especially popular.
We should plan two or three tech sessions each year.
We should include some special events in our schedule.
Old business
The venue for Pub Night was discussed. For this quarter, we will continue to have Pub Night on the second Monday of each month at Sullivan's. Because of schedule conflicts, we plan to start at 7:30 rather than 7:00.
The Dogwood Car Show is still in the planning stages. Several concerns were raised about the club's tax status, lack of bylaws, and lack of insurance. A committee was formed to draft bylaws for the club as a first step. Chairman of this committee is David Campbell.
New Business
The National Officers Meeting will be held in the Knoxville area on March 10-12. A motion was made and carried that we show our club's hospitality to these officers while they're in our area. We plan to provide transportation to and from the airport, cook breakfast for them, and meet with them for dinner on Saturday the 11th. Details will be in the Smoke Signals.
Southeastern Classic 2002 will be held in our area. A committee was formed to plan for the event with Paulette Lownsdale heading it and including Bob Ricker, Charlie Lownsdale, Paul Turner, and Amy Turner.
More magnetic signs will be designed and purchased for the club. Paul Turner is to research the design and cost of the new signs.
Planning
The following drives and events are in the works.
Mar. 25 - Brushy Mountain Drive; Bryan Broadhead, drive captain

Apr. 15 - Quarterly Meeting

May 20 - May West Knoxville Driving Challenge; Paula Campbell, Paulette Lownsdale, Amy Turner to organize

June - Roane Mountain

July 15 - Quarterly Meeting

July 23-27 - Conclave 2000 in Indianapolis

Aug. ??? - Drive to Abingdon, VA with overnight stay; Amy Turner, drive captain

Sep. 21-24 - Southeastern Classic, Myrtle Beach

Sep. ??? - Drive to Chattanooga Theatre Center; Paul Turner, drive captain

Oct. 14 - Bob Ricker to plan

Oct. 21 - Quarterly Meeting
Outgoing president Doug Smith passes the baton to our new president Bryan Broadhead.
By David Campbell
It was the fall of 1965…beginning my first year of teaching at Franklin High School in Locust Grove, Ohio after graduating from Morehead State University in Kentucky. My very first self-owned car, a 1963 Triumph TR-4, had continued the process begun several years before of winning me over to those wonderful British Sports Cars. All during my senior year at Morehead I had proudly displayed a picture of an Austin Healey 3000 on my dorm room bulletin board. The stage had been set for what was about to transpire...The time had come!! I had just begun my professional life at the whopping annual salary of $4500 and was ready to buy that 3000. Besides, the TR-4 was beginning to smoke a good bit, so of course trading time was nigh!! Well nigh, I justified!!
With knowledge of my destiny at heart, I set out for the city of Cincinnati in the little TR, in search of the Healey dealer. Checking a telephone book, then stopping at a couple of gasoline stations resulted in my entering the front drive of a dealer that served up Volvo, MG, and Austin Healey, all aglitter and smiling, almost beckoning, through sparkling grilles at me. My mind was set…it was Austin Healey or bust!!! I had driven the new TR-4A, the Volvo, and the Sunbeam Tiger...something tragically American about them. No…it was the Healey this morning!!!! "What can we do for you today?" asked the pursuing salesman as I shut off the TR engine, hoping he hadn't noticed the smoke emitting from the tailpipe. "I am here to buy an Austin Healey!" was my reply. "Well we have several here...in fact, there is a transport right over there (pointing) with a load of brand new ones...just arrived this morning. Maybe I can show you some of them."
I glanced in the direction of his point, quickly gathering the spectacle of a huge transport truck crammed with eight brand-new sparkling Big Healeys, almost singing to me, as I could hear the sound of the beckoning Sirens! THERE IT WAS!!! "I want THAT one!" I replied excitedly, trying to mute my exuberance, and momentarily forgetting good business sense of the trade to come. I had spied a Healey Blue model perched atop the trailer, the very end one that seemed to be singing the loudest to me...its bluish color seemingly tinted with the King's Sterling Silver, fender lines flowing like already running 120 mph. After the obligatory bickering and trading, and a promise that it would be ready to go by next Saturday, I hopped into the TR and drove away, already anticipating the return to pick up my piece of contemporary Art.
I had some trouble sleeping the Friday evening before the big day, but Saturday finally arrived -- I was up and moving with no effort at all. To Cincy I drove in a lather of excitement, arriving at the Healey dealer's driveway shortly after opening. I entered the front door, searching for the salesman with whom I had traded. His eyes caught mine as he rounded out of his cubicle and he made his way toward me with extended arm for a quick handshake. "Your car will be ready in just about a half-hour…that will give us time to sign the papers and you can clean your belongings out of the Triumph."
The hour seemed slow, but finally, I heard that sweet sound just outside the building and looked out to see my powerful, shiny, pulsing, Austin Healey Blue Austin Healey 3000 BJ8 nearly searching for ME!!!! I know it called my name from deep within the exhaust tones. "There ya are, David!" the salesman remarked, motioning toward what was now MY Healey.
---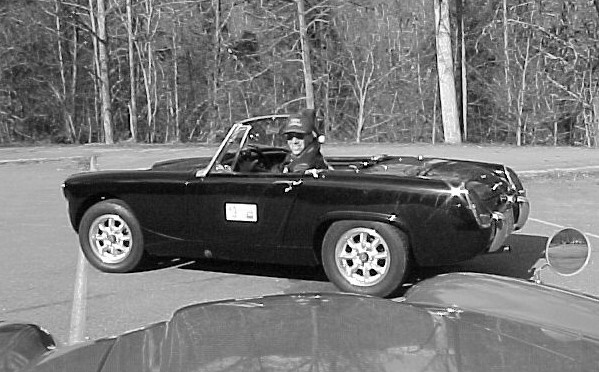 I approached slowly...too slowly...so slowly that it gave away my anticipation. Running a finger down her fender lines, I opened the door and put her on (I have learned that, at 6'2", getting in and getting out of a British Sports car is more a matter of putting it on and taking it off--sort of like a favorite sweater). Turning the starter/key after depressing the clutch pedal, she roared to life instantly. The SOUND!!! The SOUND!!! THAT is what I am after. I glanced at the salesman standing watching proudly, as though he had just given birth to my Healey, a short wave back and forth, and I was off. Gently, gently, gotta break 'er in. Watching to see the looks and expressions of pedestrians as I tooled down the Cincy streets. Rumble, Rumble, Rumble, Rumble, sputter, Rumble, sputter, sputter, sput...sput...Ugh!

Dead--Motor is DEAD!!! What the...??? I slowly coasted to the edge of the road, cranking the starter, RRRRRRRRRRR... RRRRRRRRR... NOTHING!!!! What the....? Ahhhhhhhhh...the gasoline gauge… EMPTY!!!!???? What the...?? Now boiling mad, I jumped out of the Healey... GRRRRRRRRRRRRRRRRRRRR!!!!!! A phone!!! There!!! On the next corner!!!!

"Hello??" said the sweet young thing not quite ready for my assault! "GIVE ME HARRY IN NEW CAR SALES IMMEDIATELY!!!!" trying not to yell too loudly at the sweet young thing. Harry comes on the line, as she sensed my urgency..."HARRY WHAT THE HELL ARE YOU DOING SELLING ME AN EXPENSIVE BRAND NEW AUSTIN HEALEY AND NOT PUTTING ANY GAS IN THE DAMNED THING?! I AM OUT OF GAS NOT 2 MILES FROM THE DEALERSHIP, THERE IS NOT A GAS STATION IN SIGHT, AND YOU SHOULD THINK MORE OF YOUR CUSTOMERS THAN TO SEND THEM OFF WITH AN EMPTY GASOLINE TANK!!!!!!!"

Well, being the nice, effective, tactful, and threatened salesman that he was, Harry apologized profusely and said he would be right there in 10 minutes with some gasoline. "Ok Harry, I will expect to see you in no MORE than 10 minutes!" I remarked, tempering off somewhat with Harry's obvious embarrassment. A bit under 10 minutes, a car pulled up behind the Healey, Harry popped out and ran back to the trunk where he extracted a 5 gallon gasoline can. Shaking his head, apologizing 'til he nearly tripped over his lip, we team-injected the gasoline from the can into the Healey. A final thanks to Harry for being a good sport, more accepted apologies from Harry, and I was roaring off into 2 years of high adventure, my Healey Blue Healey and Me!! More later!!
Charlie Lownsdale (in Sprite) and Paul Fournier (in foreground) practicing for demolition derby?