SMOKE SIGNALS

Newsletter of the Smoky Mountain Austin-Healey Club

Knoxville, Tennessee

Amy Turner, Editor

Number 4 April 2000
Spring is in the air and the events are upon us. Which ones are you planning to attend? Just off the top of my head, I can think of at least half a dozen in the coming months: the Dogwood Grand Prix, the Townsend show, Spring Thing in Kentucky, the May West Knoxville Driving Challenge, Chateau Elan, Drive Your British Car Week, CONCLAVE!!!, and, of course, the SMAHC drives to various and sundry places. And then there are the SCCA autocrosses. I'm sure there will be some tech sessions. Oh, and I mustn't forget our pub nights and quarterly meetings.
Summer's ahead of us, and the Healey beckons. Get out there and drive!
Upcoming Events

Date

Event

Where to Meet

Apr. 9

Sunday B4 Pubbing Drive

UT Faculty Club on Neyland Drive at 1:00.

Apr. 10

Pub Night

Sullivan's Restaurant at 7:30 p.m.

Apr. 13

Quarterly Meeting

The home of Bryan and Kathy Broadhead at 7:00 p.m. Call 966-7098 for directions.

Apr. 29

Dogwood Grand Prix

Knoxville Connector
In this issue…
Let the Games Begin! *
Prez Sez
*
Smoke Editions
*
A Brisk Sunday Drive
*
A Letter From Our National President
*
Shirts Missing In Action
*
Quarterly meeting, April 13th
*
Welcome New Member Rick Rawe
*
Sunday Drive B4 Pubbing
*
April Calendar
*
Upcoming Events
*
March has now come and gone and it was really quite memorable. SMAHC had its great moments and a sad one as well. The highlights of the month were the hosting of the national AHCA officers and the Brushy Mountain drive. We were all saddened by the passing of SMAHC founding member Frank Belcher after a relatively short fight with cancer. Frank graciously lent us his business meeting room for our meetings the first couple of years of our existence. Even though he was not as active as he would have liked recently, he will be greatly missed.
It was truly a pleasure for the SMAHC to host the national officers meeting this month at Tellico Village. Thanks go to each of you who helped with food and driving. The food was furnished by Tom and Noelle Dean, Paul and Amy Turner, and Bryan and Kathy Broadhead. Everyone raved about the food! Also thanks to the drivers; Paul Fournier, Paul Turner, Bob Ricker and Charlie Lownsdale. Of course, special thanks to Gary and Paulette Lownsdale who organized the entire event superbly. They also provided much of the "sweat labor" that made the entire event run very smoothly. We are indeed fortunate to have the Lownsdales as members of our local club.
Our first official driving event of the year was really a treat. We had seven British cars participate and the weather was absolutely perfect. The drive to Brushy Mountain offers quite a variety of sites and driving experiences. They even arranged for some of the prisoners to escape just so we could feel that extra bit of intrigue. We also found a new restaurant quite by accident, it's called the "Kountry Kitchen" in Oliver Springs and was quite good. The turkey and dressing are highly recommended.
Our next quarterly meeting will be held on April 13. That's a Thursday night at 7:00 PM at my home. We'll have some good fixings available, and I'll call and ask several of you to bring a dessert or salad also. My address is 215 Sugarwood drive in Farragut, if you need directions call me at 966-7098. We need to discuss some upcoming events like the Townsend show and the May West driving event. Also, we need to approve a set of bylaws for our club. I also would like to discuss the possibility of establishing a so-called "monster list" of local suppliers of parts and service that members of the club could avail themselves of. This should be particularly useful for new members of our club.
Don't forget, Leonard's informal drive will be held on April 9th. Meet at the UT faculty club on Neyland Drive, Sunday at 1:30 PM. And as always…Let's go Healeying!
Bryan
Forgive me while I wax philosophic.
It's something I have to do about the Sprite now and then. I imagine myself about three years ago, blithely unaware of the lure of the Austin-Healey. I thought cars were just transportation. I drove a blue Saturn. Heck, even the color of the car had a practical, no-nonsense name. Look it up in the brochure: Blue. No Coronet Cream, Iris Blue, Primrose Yellow, or Colorado Red. Just blue. Or black. Or red. Blah.
And then I found Healeys. It wasn't a brand new find. I'd seen them in books. I remembered them from my youth in rural Georgia where the only thing to do on a Saturday night was to try to wrangle a date with a guy who had a cool car and drive around and around…and around the parking lot at the strip mall. There was a Healey there, and I remembered it. (I wouldn't admit it to the cool guy I was dating because he had a '68 Chevelle with lots of go-fast parts, but the Healey had lots more style.)
So, anyway, I got a Healey and my life changed. Instead of wasting summer days mowing the grass and cleaning the house, I'm out cruising the roads in a car that has a soul. I'm loving every whiplash victim I pass. I'm going to car shows and finding out what others have done with their rolling works of art. I'm learning what rocker arms and crankshafts are. I'm Healeying. Yeah, the grass is long and the house is somewhat short of spotless, but I'm smiling.
And I've found a bunch of people who share my enthusiasm. We've got a busy summer ahead of us, folks. Hope I see you out there showing the Chevelles what style is.
See you on the road!
Amy
Have you ever raced your Healey? Think you're a skilled driver? Enjoy the thrill of screeching around tight corners like you're in a movie chase scene…but with the safety of having nothing but pylons to crush? SCCA autocrossing might be just the Sunday drive for you. At the March 26th autocross the SMAHC had five representatives: Gary, Paulette, and Charlie Lownsdale, Rich Miller, and Amy Turner. Out of that bunch, we have two Regional Champions and one National Champion. Care to guess who's who?
A great time to give autocrossing a try — especially if you want to polish your skills before you perform in front of a crowd — is the Solo School on April 8 at Oak Ridge Mall. You don't have to join SCCA to participate, so come on down!
| | | |
| --- | --- | --- |
| Date | Location | Event |
| Apr 8/9 | Oak Ridge Mall | Solo School & Regional #2 |
| Apr 29 | Knoxville Connector | Dogwood Grand Prix - Regional #3 |
| May 21 | Blount HS | Regional #4 |
| June 11 | Karns HS | Family Picnic & Regional #5 |
| July 9 | TBD | Regional #6 |
| July 30 | Blount HS | Regional #7 |
| Sep 24 | Karns HS | Regional #8 |
| Oct 15 | Blount HS | Regional #9 |
| Nov 5 | Oak Ridge Mall | Regional #10 |
October 15, 2000
Bryan Broadhead
President
Smoky Mountain Austin Healey Club
Dear Bryan,
Please extend the sincere appreciation of myself and the national officers of the Austin Healey Club of America to the members of the Smoky Mountain Austin Healey Club for their support during the recent AHCA National Leadership Meeting in Knoxville. The hospitality and gracious service that was provided to the participants by the volunteer members of the SMAHC was noticed and remarked on by the officers present.
The transportation services to and from the airport went without a hitch, despite the airlines rescheduling a few flights. Not one person was stranded at the airport or missed their flight on the return. The drivers who participated were Bob Ricker, Amy and Paul Turner, Charlie Lownsdale, Paul Fournier, Leonard McKeehan, and yourself. The mini-drive on Sunday provided a nice relief and a memorable view of the snow capped mountains for the last stragglers on their way to the airport.
The evening dinner on Friday was appreciated by all in attendance and was hosted beautifully by Kathy and yourself. The sweet potato pie was a hit and many officers asked for the recipe. The honey baked ham provided by Noelle Dean was so good that we were fighting over the plate scraps at lunch the next day. Amy's dessert really hit the spot, and I sneaked a couple of extra pieces home with me to enjoy after the meeting.
This meeting is very important to the AHCA, in that the discussions surrounded where the future of the national club should be three, five, and ten years from now. Many items were reviewed for incorporation this year, including extending the Directors and Officers Liability Insurance to all the chapter clubs and the appointment of Brian Thornton as the Coordinator for the Next Generation of Members activities. This is the one time each year that all the national officers and committee heads have an opportunity to meet and discuss implementation plans for those action items brought forth at the Board of delegates Meeting in November.
Again, the AHCA thanks you and your club for putting forth such a fine effort in support of this important meeting.
Sincerely,
Gary R Lownsdale
President
Austin Healey Club of America
Leonard McKeehan reports that two SMAHC embroidered sweatshirts have gone AWOL. If you wound up with them after Pub Night or if you know of their whereabouts, give Leonard a call.
The next quarterly meeting will be held at Bryan Broadhead's home in Farragut. The time is 7:00 p.m. with a delicious meal served. Bryan or Kathy will contact several of you to bring a dessert or salad. Kathy will fix one of her specialties again. We need to discuss the upcoming drives and events, approve a set of club bylaws, and tend to other old and new business. Be thinking about the idea of establishing a club "monster list," a collection of area parts and service people that members would have access to. We also need to discuss ways of honoring Frank Belcher, a club member who recently passed. Several ideas have already been suggested; we need to collect these ideas and come up with the best one.
One of the newest members of the Smoky Mountain Austin-Healey Club is Rick Rawe. Here's his letter of introduction.
Hi Amy, I am probably the club's newest member, having joined a couple of months ago. I just acquired a '67 BJ8. This past Saturday I took it on the drive, and it ran well. Lots to do to it prior to Indy.
The car is Colorado Red on black with black interior and top. I bought it from a recently retired guy in Lake Charles, Louisiana. He had owned it for 18 years and had pretty much rebuilt it during that time. A friend of mine and I made a two day trip of 1550 miles round trip to trailer it back to Knoxville a few weeks ago. What a time, and we didn't even go to New Orleans while in the area! Took me three days to clean the garbage out of my Trooper since we ate on the fly!
I have been pleasantly surprised how well the Healey has cleaned up, and am busy trying to find some of those parts that I need. Seems like virtually everything I look for in the Moss catalog is NA (not available)!
Lastly, it is ironic that I first drove a Healey while visiting the ALCOA plant back in 1970. I could have bought that very nice BRG BJ8 for around $1500, but declined because I couldn't afford it plus it was simply too hot in the car. So now I finally have it, and it sure as heck cost many times that $1500! Isn't hindsight wonderful?
Now I need to get rid of some of the other toys. Anyone out there interested in a '51 MGTD RHD? How about a '73 450SL with less than 100K miles on it? Or, I might be talked out of my '90 Jaguar XJS V12 convertible with 24K miles on it. I plan to hang on to my '56 T-Bird and my two '74 Datsun 260Z's. I really want an older civilian style Dodge Power Wagon, but that will be a tough sell with my wife unless I get rid of some of the other cars mentioned! I am not sure it is even possible under those conditions, but gotta keep trying.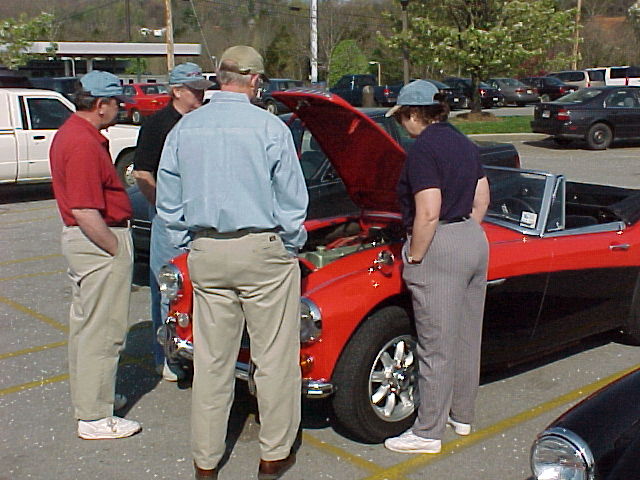 Leonard McKeehan has come up with an idea for a series of informal drives in the Spring and Fall. These drives are on a strictly informal basis and are in addition to any official drives we may have. During the months of March, April, and May, then August, September, and October, an informal drive will be held on the Sunday before the monthly Pub Night. The meeting place will be the UT faculty club on Neyland Drive at 1:30 p.m. The gathered participants will decide on where to go. If it rains, forget it. If the weather is good, enjoy.
Apr. 9 Sunday Drive B4 Pubbing, UT Faculty Club on Neyland Drive at 1:00.

Apr. 10 Pub Night at Sullivan's Restaurant on Northshore, 7:30 p.m.

Apr. 13 Quarterly Meeting, home of Bryan and Kathy Broadhead, 7:00 p.m.

Apr. 29 Dogwood Grand Prix

May 6 British Car Gathering, Townsend, TN.

May 8 Pub Night at Sullivan's Restaurant on Northshore, 7:30 p.m.

May 18-20 Springthing 2000, Bluegrass AHC. Contact Mike Schneider at 502-896-283 or
mikebn2@win.net
for details.
---
SMOKE SIGNALS

Smoky Mountain AHC Newsletter

Amy Turner, editor

126 S. Jackson Street

Athens, TN 37303-4711

Phone: 865-300-4553 or
423-745-0309

E-mail: Ltturner@usit.net