Oh, the joys and frustrations of taking a vacation. All the normal people out there know the joys of taking a vacation. The joys of driving or flying into new and exciting places. My family and I are currently completing our big trek for this year. Who could argue with spending a week in Las Vegas and Flagstaff area while taking in the Grand Canyon and all that exciting stuff? Well, for us car nuts, it can be very frustrating. Can you imagine not being able to drive your car for over a week, especially over beautiful scenic countryside with gorgeous weather all the time. Especially when you see all those lucky people driving their BMW, Audi, Sebring convertibles and you are in your rental minivan. There must be a law against this torture. To make matters worse, you are driving all sorts of back roads, which feature tons of old discarded cars sitting in open fields in a desert climate. You just dream of a perfect big Healey sitting there WAITING for you to find it. Maybe next year I will find a total dump to vacation in, that way I will only miss driving my car, better yet, maybe I'll just stay home and work on my car. HEYYYYY!
It sounds like I have been missing all the fun at the various car show events. Several members of the SMAHC have been taking in the events at Chateaux Elan near Atlanta, Springthing in Kentucky ("KenTurkey," as my son calls it) and Wings and Wheels in Morristown. Hopefully we have chronicles of these events in our newsletter. If not, please when you attend these events let the rest of us know the details so we can plan on going next year if it was worth it.
Townsend was a blast, perfect weather and more cars than I have ever seen at a Townsend event. It just keeps getting better every year. We have our monthly pub night coming up soon, plan on being there. We have been having great turnouts lately for this event. Join us if you have not tried it yet, or not been there lately.
It is not too late to make your plans for Conclave this year. Let's have a good representation this year. Look out Indianapolis, here come SMAHC! Until our next event, remember the June drive to Roane Mountain, keep on Healeying!
Bryan
May has come and gone, and here we are staring summer in the face. Does it mean I'm getting old if I say the year is flying by?
May was a hectic month at the Turner abode. Paul waffled for a few months before deciding he would take a job in Las Vegas. At the last moment, he decided it's an opportunity he couldn't pass up. He insisted on staying for the Townsend show and one more pub night, then he was off to Sin City. I followed him the next weekend, just in time to see the Las Vegas All-British Meet. (Check out this month's calendar to see how different car shows are in Vegas.) Then Paul was back for a long Memorial Day weekend. After this, though, there'll be a few weeks between our visits.
When Paul came home for Memorial Day, he had two wishes to fulfill: to take a ride in Healium and to dine at the Italian Market and Grill in Knoxville. We got two birds with one stone by driving Healium to the restaurant. Forget the thunderheads, we were stylin'! We just managed to get back to the warehouse before the bottom dropped out of the sky.
Paul and I want to thank everyone who made his final pub night (for a while, at least) a memorable experience. It's a little easier to take that big a leap knowing that there are friends at home who will be there when you return. Thanks for the unforgettable "bon voyage!"
See you on the road!
Amy
June is busting out all over, and Roane Mountain awaits the hum of Healeys. Doug Smith is the drive captain for this traditional summer drive.
We plan to meet on June 24th at the McDonald's in Jefferson City on Highway 11-E. In order to take advantage of the cool morning weather, we'll gather at 9:30 and leave promptly at 10:00. The temperatures on the mountain will still be nice and cool, so don't be discouraged by the fact that it's summer!
Be sure to top up the gas tank and bring a picnic lunch. We'll enjoy the food, the company, and the rhododendrons!
by Amy Turner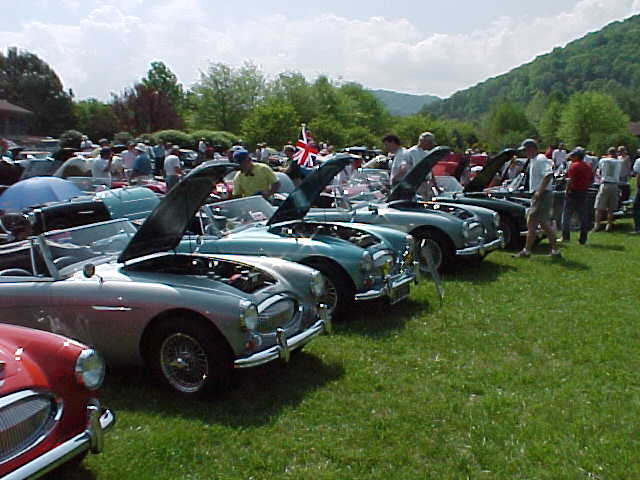 Bryan was right when he said the Townsend show was a great treat. The weather was almost as beautiful as the cars, and what a turnout! If you're planning to attend next year, make sure you get your reservation in early. They had planned to cut off registration at 12:00, but those plans were changed when the cars just kept rolling in.
Once again, cars came from near and far. The Atlanta chapter showed up in force, and we got to meet a new arrival in Knoxville, Gale Engelke from Seattle. Gale has a gorgeous red bugeye (Go bugeyes! Ahem…editorial comment there). Be sure to say hi to him next time you see him at a pub night or drive.
The SMAHC had only one official winner. Charlie Lownsdale took second place in the Sprites / Midgets class. Congratulations to him and to all who took part in this exceptional event!
By David Campbell
Well, old Taz, my 1979 blue Midget, is back on the road again after a series of "personality disorders." It all began after I installed a new exhaust system from the header back. Wishing to rid Taz of the eyesore, rusty crossover muffler that crosses from the driver's side to the passenger side of the car, behind the gasoline tank, I purchased a little 17" Thrush glasspack muffler for her. Clinton Muffler shop made short work of installing the new muffler with a new 1 3/4" tailpipe custom bent to match the old one. I listened as the muffler guy started her up with the new muffler in place, and there it was! That throaty British Sports Car sound that had been so throttled and choked out by the stock series of two tandem mufflers. Now she could breathe! And Speak! Maybe even yell and scream a little!
All was well and good until one afternoon when Paula and I took Taz for a spin to one of our favorite spots for a glass of ale and a sunny Spring afternoon drive. Returning to make the turn into our subdivision, I downshifted into 3rd, then 2nd, and then, a bit prematurely, 1st gear, managing to over-rev the engine — I do drive kind of "Sprightly." Hitting the clutch quickly, braking, then proceeding, I immediately noticed a clicking/faint-knocking sound that wasn't there before. "That doesn't sound good!" I noted to Paula as we pulled into the driveway. Over the course of the next couple of days, I attempted to find the source of the sound, which proved to be quite elusive, and changing in pitch and volume to louder. I listened, used the proverbial dowel (broomstick) to eavesdrop, pulled the oil pan, where I eyeballed and manually shook everything I could find, with no luck at finding anything that might be making that sound.
I threw the symptoms out on the Spridget mail exchange for input from that worldwide network of good guys who love and care for Spridgets of all manner, and received a plethora of ideas. I knew at that point that I was going to have to pull the engine to find the knocking, which was still getting louder.
Gary Lownsdale to the rescue! Gary offered on the Spridget network for me to bring Taz to the Fish Market to pull the engine and repair the intrusive knock, whereupon I took Gary up on his generous offer. The next Tuesday I drove to Maryville, picked up Gary's trailer, back home, loaded Taz, and drove back to the Fish Market, where Taz was unloaded and preliminarily checked out. During our diagnostics (technical term for two grown men standing hunched over a little croaking engine listening closely), Gary produced a mechanic's stethoscope whereupon a procedure similar to a physician moving his steth over your back while constantly repeating "Cough," prompted Dr. Gary to pronounce, "It's coming from the rear of the engine!"
Working as a team, making a clatter and din while removing nut and bolt after nut and bolt, we finally had the engine sitting on the floor and I tackled the bell housing, which gave way after breaking the tightness of my previous assembly with "thread locker". Laying the housing back and removing the clutch plate, l instinctively twisted the flywheel bolts with my fingers, and THEY WERE LOOSE! Grabbing the sides of the flywheel, I could move it back and forth at least a half inch!!! Loose Flywheel, for the 2nd time I have owned this car!!!
New Flywheel bolts, generous amount of red Locktite, proper torqueing, a long blue funnel for a clutch centering device (yep, it worked!), engine returned to its nest, reconnect everything, and Taz fired right up. NO KNOCK! We fixed it! Muffler cackling, high riding, several days later, uh-oh! SMOKE! Copious, thick, gray smoke screen laid down behind me! Pull over to the shoulder to check underneath, and note oil pouring from the engine like someone emptying a quart bottle, coating the exhaust system and producing the SMOKE! Oil pressure still good, only a quart low at this point, a mile from home, I decide to drive home, watching the pressure light closely—ready to turn her off at the first wink of the light.
I made it home, pulled into the driveway, and immediately shut down the engine. Making a preliminary check I of course could find no problem. No time right now, so I will check further tomorrow, at which time I noted that the front two screws that hold on the oil pan, and which screw into a small aluminum block in the front of the engine are gone. GONE! Checking further, I find that these two screw holes go right through to the interior of the oil pan, and if missing, leave open wounds that bleed oil right out onto the exhaust, the ground, the frame, and anything else that gets in its way. Now I realize that when I torqued the screws per the book, the front two screws, being based in aluminum, could not take the torque applied to the block based screws and stripped out, resulting in the loss of the screws.
My fix? Not wanting to pull the engine again, and with proper-size helicoil not available here in the Tennessee backwoods, I decided to replace the fine thread screws with same-size coarse thread screws, tap out the hole for coarse threads, and coat the new screws with a nice amount of blue RTV silicone. I will do a proper helicoil fix next time I pull the engine. It worked! I am now driving Taz WITHOUT an oil leak of any kind! And again she is humming along, purring like a tiger, and happy to be once again alive! Happy Spridgeting, guys!