SMOKE SIGNALS

Newsletter of the Smoky Mountain Austin-Healey Club

Knoxville, Tennessee

Amy Turner, Editor

Number 8 August 2000
According to my word processor's thesaurus, the word "august" means noble, elegant, superb, or venerable. An opportunity to meet Gerry and Marian Coker, then, can be accurately described as an august occasion. As I'm sure you all know, Gerry was the designer of the 100-4 and the bugeye Sprite, although his original intention wasn't for it to be bug-eyed. This is one drive you won't want to miss!
The annual barbecue is coming up — see the article inside this issue. Then there will be a drive to Chattanooga, Southeastern Classic in Myrtle Beach, the lovely Brits and Grits drive, and lots of other opportunities to get your Healey out and drive. Take a look at the back cover of this issue — plenty of august occasions going right into the fall!
Upcoming Events

Date

Event

Where to Meet

August 14

Pub Night

Sullivan's Restaurant at 7:30 p.m.

August 19

Drive to Mingo Falls with Gerry and Marian Coker!

Floyd Garrett Muscle Car Museum in Sevierville at 9:00 to tour the museum or 10:30 to join the drive.

Sept. 2

Annual barbecue

Home of Doug and Barbara Smith, 3:00 - 5:00. RSVP by Aug. 30.
In this issue…
Smoke Editions
*
A Mountain Drive and a Picnic With the Cokers
*
Five Years Ago This Month
*
Bryan's Dream Vacation

*
September Barbecue
*
Performance Driving Safety Checklist, Part 2
*
August Calendar
*
Upcoming Events
*
Conclave 2000 is now history and boy did I have fun! The SMAHC was well represented in Indianapolis with eight members attending. I wish everybody could have been there. It was good to see many familiar faces and meet a lot of new Healeyites. We added a new couple to our membership roster, Jim and Sue Porter from Cleveland, Tennessee. Welcome Jim and Sue to our club, we hope you can join one of our events soon.
The social events at Conclave included a 50's dance for opening night, a Las Vegas style casino night (with the proceeds going to charity), and a hospitality event each day. The driving events included a gymkhana, funkhana, and Putnam Park speed event. The popularity show on Tuesday in Zionsville was spectacular with some 200 Healeys lining the brick streets in this small quaint town. Throw in the pinewood derby, R/C races, arts and crafts, and charity raffle and you have a very memorable event for Kathy and me.
The SMAHC won a ton of trophies; my last count was seven and still counting. Yours truly won in the pinewood derby and model categories, Charlie Lownsdale in the R/C and Owner's Pride Photo categories, Gary and Paulette both won several trophies in the gymkhana and speed driving events. Congratulations to all you trophy winners!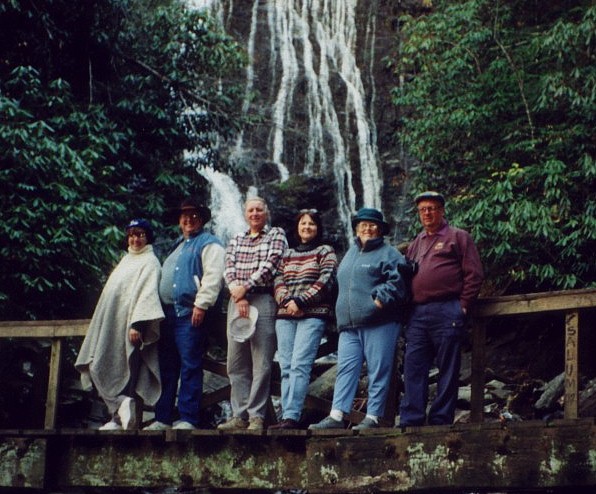 And now it is August. At our last quarterly planning meeting we decided it was time to return to Mingo Falls. Bill Denton will lead the group over the mountains and into Cherokee, NC, to visit the falls and dine with our special guest, Gerry Coker. It's been a couple of years since we had Gerry at one of our events and this date worked out well for the club and the Cokers. See details of this drive elsewhere in this newsletter, but make you plan on attending this special event.
Also, in the upcoming events we are planning a club picnic for Saturday, September 2nd at Doug and Barbara Smith's. Due to the fullness of the calendar in October, we moved our annual picnic up to September this year. Currently we are planning a potluck style picnic. Stay tuned for further details.
Don't forget the Southeastern Classic is in Myrtle Beach this year and is scheduled for September 21-24.
'Til our next meeting, let's keep those Healeys rolling…
Bryan
Well, to quote Britney Spears, oops. I did it again. I let my hammy nature take over my good sense and I auditioned for a play in Chattanooga. Completely forgetting that there were far too few hours in the day for me to get everything done, even without this extracurricular activity, I tried out for the role of Mama Rose in Gypsy…and I got it! I'm very excited to have this opportunity — after all, there aren't too many starring roles for us, shall we say, non-ingenue types — and I'm especially happy that the SMAHC had planned a drive to see the fall musical in Chattanooga. Last year we saw a Sunday matinee of Fiddler on the Roof and had a great time. The Theatre Centre was tickled to see the Healeys and provided security during the show. We've been invited back and offered discount tickets, regardless of the number who attend. RSVP by August 30 so I can get a good block of seats together.
Meanwhile, Paul is out making his mark on the West Coast. Even as I write this, he's visiting with Bob and Annice Kitterer and their bugeye in San Diego. He's pining for his 3000 to be up and running and considering having it shipped out west so he can enjoy the beautiful top-down weather. He reports that southern California is Miata heaven, and he's itching to show them what a real roadster looks like.
Did you notice in the latest Healey Marque that we have members who've reached another milestone? Dave and Becky Berry are 10-year members of the AHCA. Congratulations to them!
We've got lots of great events coming up, and I hope to attend some of them. I know you folks will be there, so have extra fun for me if I can't make it.
See you on the road!
Amy
Last year's trip to Mingo Falls was a blast!
Make plans to go on August 19th.
A Mountain Drive and a Picnic with the Cokers
By Bill Denton
On August 19, 2000, at approximately 9:00 a.m., members of the SMAHC will gather at the Floyd Garrett Muscle Car Museum in Sevierville, Tennessee for a viewing of the 100 factory built muscle cars. The museum is located adjacent to the Volunteer Chevrolet dealership on Highway 66 approximately eight miles in town from I-40, exit #407. For those who choose not to see the car museum, please gather in the museum parking lot by 10:45 a.m. The SMAHC club drive begins at 11:00 a.m. sharp. We will parade through Sevierville and Pigeon Forge to the Gatlinburg bypass and continue on U.S. 441 over the mountains to the McDonald's Restaurant in Cherokee, North Carolina, arriving there at approximately 12:30 p.m. Those who didn't pack a picnic may gather their food and beverages in Cherokee. After meeting the Cokers at McDonald's, we will then proceed to the Mingo Falls picnic area for lunch. After our lunch visit with the Cokers, we will then hike the short trail to one of America's most beautiful waterfalls. Since it is owned by the Cherokees and is a sacred place, it is not promoted or advertised as a tourist attraction. The Cherokees welcome visitors to Mingo Falls. Since the Cokers have never been there and they really enjoy waterfalls, this will be a really special visit with the creator of the Austin-Healey image that people admire to this very day.
We are very fortunate to have the Smoky Mountains, Mingo Falls, and the Cokers combined into a summer drive event that will create many wonderful memories. I look forward to seeing all of you there, rain or shine.
Your drive captains,
Bill Denton and Annie, the British border collie
Contributed by Bob Ricker
This is the first installment of a new feature in Smoke Signals. Each month we'll take a look at what the club was up to five years ago. Funny how much things change. Funny how they stay the same! Bob Ricker has volunteered to head up this section of the newsletter — many thanks to him!
By Bryan Broadhead
On May 25th my family and I left Knoxville for a three and a half week visit to England. The last two weeks would be business, so we decided to pack as much as we could into the first ten days. We spent two days in London, one day in Edinburgh, Scotland, two days in the Lake District, one day in the Cotswall area, followed by two days in and around Salisbury, and a final night in Windsor….
I made two side trips to partially satisfy my thirst for British cars. The first was to the British Heritage Center in Gaydon. …The center contains an outside 4x4 area with lots of mud, hills, and water obstacles. For a small fee you can take a ride in a Land Rover over the course. …Inside consists of three floors, with the top floor housing offices and the archives for all British cars manufactured under the Rover Group. The center floor contained a restaurant, along with displays of various car chassis, engines, experimental car models, and an MGB-GT cut in half. The lower floor contained about 200 cars representing the history of the Rover car group. It had many models of Rileys, Rovers, Land Rovers, Minis, Jaguars, MGAs, MGBs, MG-TDs, MGB-RV8, Triumphs, and Austin-Healeys (only two). My only complaint was that they didn't have more Healeys, but it was fun.
The other side trip was to see the London-Brighton Classic Car Run. I drove to Brighton, the endpoint of the run, and saw some 400-500 British cars of any and all varieties. I saw about ten big Healeys, 2-3 bugeyes, many MGBs, a few MGAs, lots of Rovers, Wolseys, Humbers, Rolls Royces, Jaguars, etc., including a Corvette and a Ford Fairlane. I picked up several back issues of British Car Magazine for about $0.75 each….
Well, I'm back to the good ole USA now. Back to doing what most of you have been doing, getting that Healey ready to drive! I enjoyed my visit to the UK, and am looking forward to remembering those narrow winding UK roads by cruising in the US in my restored Healey. Where is the phone, I need to get my restoration guy moving.
by Barbara Smith
Come bring your family and celebrate part of your Labor Day weekend in Grainger County. The SMAHC Picnic will be held on September 2, 2000 at the home of Doug and Barbara Smith, Rt. 3, Box 535C, Rutledge, TN
Come any time between 3:00 and 5:00. Dinner will begin at 5:00. The Smiths will furnish barbecue (with Barbara's brother serving as chief chef), drinks, and bread. You bring salad, veggie, or dessert.
IMPORTANT: RSVP by August 30, 2000 and let the Smiths know how many are coming and what you plan to bring. Doug and Barbara can be reached at home at 865-828-3922; at Smith's Drug Store at 865-828-522; or by fax at 865-828-5959, attention Doug.
Don't worry about missing the Vols at 7:00. A TV will be available and you'll be surrounded by fellow fans!
Directions from Knoxville
Take I-40 East to 11E exit; turn left off the exit. Stay on 11E to New Market. There will be four traffic lights. There are several miles between the second and third ones. At the fourth light (New Market) turn left onto Mill Springs Road. There is an Amoco station on the left just before this light. Mill Springs Road dead ends into Hwy. 92. Turn left. You will pass Cherokee Dam. Turn right on 375 at Texaco station. You will pass Oakland Baptist Church on left, Fox Lane on right. Take next right at Smith mailbox. We'll see you there!
Performance Driving Safety Checklist, Part 2
by Gary Lownsdale
Last month's issue included Part 1 of this article, which covered tires, wheels, hubs, bearings, spindles, steering components, shock absorbers, and suspension. Here's the conclusion of a thorough list of items to check on your Healey before you participate in a performance driving event.
Frame and Chassis
Inspect the frame, underbody, and chassis of the car with a critical eye toward rust, holes, cracks, improper repairs, missing frame supports (like outriggers), and field-rigged fixes. The chassis takes an enormous torsional twist during hard cornering. To get an idea of this loading, try to run at full speed and turn your ankle to make a 90-degree change of direction. Now imagine, over one ton of mass turning at 1 g of lateral acceleration. If the chassis or frame is rusted or cracked, the fault will continue to propagate toward a catastrophic failure. When was the last time that you saw a rusted racecar?
Engine and Transmission Mounts
Do you realize that your engine and transmission are held in place to the frame at three points in rubber mountings? The rubber develops cracks from hardening and absorbing shear, compression, and tensile loads over the years. These mounts should be inspected and replaced on a regular basis. If a considerable amount of additional horsepower has been added, then consider installing solid mounts (for racing purposes only) or at least an engine movement limit strap. The transmission mount, which is the rear engine mount, is often overlooked since it is under the car, but it is just as critical.
Driveshaft
Make sure that the driveshaft has good lubricated u-joints installed and that the joining bolts are at least a grade 5, with grade 8 preferred. Fabrication of a simple driveshaft yoke from a metal strap will also prevent a driveshaft from hitting the pavement or breaking through the underbody structure if a u-joint should fail. A local machine shop can also balance the driveshaft and perform a crack inspection for you.
Seat Belts and Seat Mountings
After spending so much time on making sure that the chassis is strong, let's not overlook the importance of keeping the driver in position. Make sure that the seat is mounted securely to the floor or frame. Have you replaced all of the seat mounting studs that were snapped off when you first replaced your carpeting? Are the seat back hing points and connections solid and tight? Is the seat frame integrity compromised by a rusty seat frame?
Are the seat belts mounted into a solid and secure portion of the frame or chassis? Make sure that the sheet metal surrounding the seat belt mounting is solid and rust free. Make sure that the belt webbing and buckles are secure and working properly. Many older seat belts will not hold tightly after many years of use. These should be replaced, along with any worn or frayed webbing.
Instrumentation
The instruments and gauges on the dash inform the driver of the vehicle's operating functions and condition. Make sure that the gauges are reading correctly and functioning. The battery must be held down securely and the battery mounting clean and secure. The non-grounded side of the battery must be insulated from the chassis with tape or an insulated cover. The condition of the electrical harness and wiring must be pristine. It's time to check all of the electrical connectors and look for frayed insulation. Many performance running faults on a track or in an autocross can be traced to intermittent electrical shorts in the wiring.
General Safety
Get the best helmet you can afford, preferably a Snell 95 approved version. This is your number one protection against serious head injury in any type of collision or rollover. Know your car, tires, and your capabilities before entering an event. Talk to an experienced driver and ask lots of questions about what to expect. Do not let your ego get in the way of safety. The better drivers maintain a great deal of respect for the destructive potential of an automobile and they take precautions to avoid "getting in over their heads" in a driving situation. The adrenaline rush that accompanies engaging in a speed event is fun and useful, but it can also cloud good judgment until you learn to use it wisely.
Okay, now we have checked those really hard to get to and often overlooked areas of the Healey. Let's enter that performance event with the confidence that it will be a safe and enjoyable one. Enjoy the sound and feel of a Healey pushed to the fullest! 'Til next time!!
Gary
August 14 Pub Night at Sullivan's Restaurant on Northshore, 7:30 p.m.

August 19 Drive to Mingo Falls with Gerry and Marian Coker. Meet at Floyd Garrett Muscle Car Museum in Sevierville at 9:00 to tour the museum or 10:45 to join the tour. Bill Denton, drive captain.

August 30 RSVP by this date for the September 2 barbecue at the home of Doug and Barbara Smith — see the article inside this issue. Home phone: 865-828-3922, Smith's Drug Store: 865-828-5222; Fax 865-828-5959, attention Doug.

RSVP by this date for the September 10 drive to Chattanooga Theatre Centre to see Gypsy matinee. Phone 865-300-4553 or e-mail to Ltturner@usit.net.

September 2 Annual barbecue at the home of Doug and Barbara Smith.

September 10 Drive to Chattanooga Theatre Centre to see Gypsy matinee. Drive captain Amy Turner.

September 21-24 Southeastern Classic all-Healey event in Myrtle Beach, SC. Contact Alan and Treasure Teague at 704-867-9809 to register.

---
SMOKE SIGNALS

Smoky Mountain AHC Newsletter

Amy Turner, editor

126 S. Jackson Street

Athens, TN 37303-4711

Phone: 865-300-4553

E-mail: Ltturner@usit.net