SMOKE SIGNALS

Newsletter of the Smoky Mountain Austin-Healey Club

Knoxville, Tennessee

Amy Turner, Editor

Number 10 October 2000
We've had some new additions to our membership. Please welcome all of these new arrivals!
Arnold and Lynn Betbeze Hixson, TN
Herb and Connie Bradshaw Athens, TN
John and Deborah Hunt Santa Maria, CA
John and Lynda May Marietta, GA
Jim and Sue Porter Cleveland, TN
William and Norma Tate Hixson, TN
We hope to see all you new folks at our upcoming events. We love to hear about fellow Healey enthusiasts so do drop me a line sometime to let me know your Healey story. The most convenient method for me is via e-mail at
Ltturner@usit.net
or send a paper reply to the address on the back of this newsletter.
Upcoming Events

Date

Event

Where to Meet

Oct 8

Drive B-4 Pubbing

UT Faculty Club on Neyland Drive at 1:00

Oct 9

Pub Night

Sullivan's Restaurant at 7:30 p.m.

Oct. 14

Brits and Grits Drive

Alcoa Wal-Mart at 10:00 a.m. sharp
In this issue…
Smoke Editions
*
An August Drive with the Cokers
*
Five Years Ago This Month
*
Richard's Healey Story

*
Board of Delegates Meeting
*
October Calendar
*
Upcoming Events
*
Editor's Note: Bryan gave me this column for the September issue, but since that one didn't make it to your doorsteps, I thought it would be all right to share it with you this month rather than asking him to write another!
September is upon us and the fall season of Healey events begins. The drive to Mingo Falls was great, nearly a perfect day to cruise the mountains. It was good to see new and nearly new faces of Sherman Phifer and his wife driving a beautiful Nash-Healey, as well as Larry Benson driving a nice Healey Blue 3000. The informal visit with Gerry and Marion Coker was great. Gerry has such insight into our beloved cars and it is really a pleasure to talk with him. Oh yeah, the falls, they were nice too, just not as much water as usual.
Special thanks go to Doug and Barbara Smith for putting up with all us car nuts at our annual SMAHC picnic at their beautiful lakeside home. The pit-smoked chicken and pork was delicious as well as all the various goodies that the club members brought. Hey the Vols even won the football game over Southern Mississippi, so that really topped off a great day.
Well, it is election time again, not Bush or Gore, our club officers. In our recently approved bylaws I note that the club president should appoint an election committee. In keeping with these guidelines as well as past practice, I have appointed Doug Smith and Bob Ricker, our two past presidents, to this committee. I ask that they come up with a slate of proposed officers and include them in the October newsletter with the election to be held at the October business meeting. If you have nominations, please see Doug or Bob.
The Southeastern Classic is coming up soon, make your final plans to attend. I know it will be good. Also the October events are just around the corner, get that Healey tuned and ready. Leonard's Drive B4 Pubbing is due to continue for the months of September, October, and November.
'Til our next meeting, let's keep those Healeys rolling…
Bryan
Say, did you miss something last month? I know I did. I missed getting a newsletter out. Please forgive me -- my schedule has been a killer, and I just didn't get it done. When I missed the beginning of September, I started thinking, "Well, I'll get out a September-and-a-half newsletter," but the days ticked by and it didn't get done. With the pretty weather we've had lately, though, I'll bet you all found something fun to do, anyway!
The Johnny Lightning British Invasion series of die-cast cars has hit toy store shelves. In fact, the second series is already out. The bugeyes so far have been leaf green and Old English white. No bright blue! I asked the man from product development when Healium would be immortalized in die cast, and he said it's not yet on their roster. The art director got to choose the colors, and it looks like he's starting with original colors. My contact in product development promises Healium will make it to die cast someday, though. In the meantime, every one of those little toys has a little Healium in them. Since they made the mold from my car, there are customizations that made their way into the mold. See the little Sprite arrow on the grille? That's Healium! There are a few more Healium-isms in the toy cars. Can you spot them?
See you on the road!
Amy
An August Drive with the Cokers
By David Campbell
Editor's Note: Don't forget about the Brits and Grits Drive on October 14th! Meet the Cokers again for a fall tour of the Smokies. Assemble at the Alcoa Wal-Mart at 10:00 sharp with a full tank of gas. Contact drive captain Bob Ricker at 865-694-6086.
A nice morning! A really nice morning! The kind of morning we top-down British Car drivers hope for when we begin a Saturday morning drive. But this drive was special. It was not to be just another great drive through the Smoky Mountains. That is great enough in itself, but this morning we were to be in the company of greatness. Significance! This was the Saturday, August 19 drive to Mingo Falls hidden in the Cherokee Nation's land, but more than that, we were promised to meet and drive and picnic and walk with Gerry Coker. The Gerry Coker who was primarily responsible for the design of our favorite automobiles: The Big Healey and the Bugeye Sprite.
The day began at home, filling the small cooler with ice and Coke, airing up the tires, and taking care of last minute checks before lighting out for the Muscle Car Museum in Sevierville, where we were to organize for the drive. The arrival at the Museum was most impressive, as already there was an awesome row of Big Healeys, a Triumph, a beautiful Nash-Healey driven by Sherman Phifer of Washburn, TN, and of course, the Midget. People leaving the museum were captured by the temptation and could not help but to walk by and inspect our cars. Finally time to drive arrived, and we slid into our deep seats and English engines rumbled to life.
We commenced a drive around the main section of Sevierville and Pigeon Forge on back country foothill roads, the kind these cars flex upon, passing en route a very obvious landfill, and reentering the mainstream somewhere near Dollywood. Mufflers barely muffled the excitement of the firing pistons as we reverberated from both sides of the ridge on the windy road south of Pigeon Forge and onto the Foothills Parkway bypass of Gatlinburg, through and over the Smoky Mountains, and finally arriving in Cherokee, N.C., pulling into a most non-British McDonald's. We found parking that would accommodate all our cars in a row, and as we emerged from our piloting perches, we found ourselves congregated around the legendary Gerry Coker and his wife, Marion.
We bought lunch provisions at McDonald's, rested a few minutes, and shortly thereafter we were off again, this time with the Cokers part of our group, driving their late model Jaguar. Again, winding around beautiful Mountain roads, we finally arrived at the Mingo Falls turnoff where we would have lunch and take the short walk up to the falls.
While there, I had quite a chat with both Gerry and Marion about England, Healey design, and various other topics. Both of them are very gracious and friendly, willing to converse. Gerry left Healey and England in 1957 and came to the States to work for Chrysler, then in 1960 went to Ford 'til his retirement in the mid-80's. I asked him about the design of the Spridget front suspension and he related that he had no idea what inspired that, as he designed only what you see — none of the mechanicals.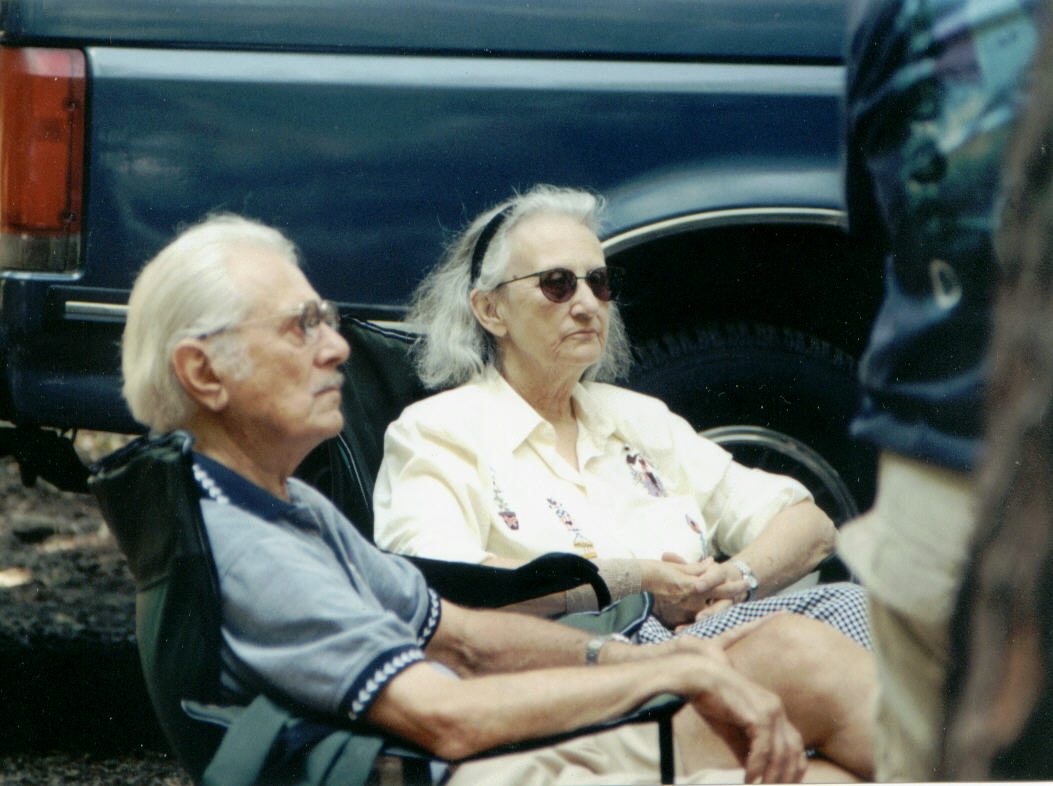 The climb up to the Falls was most strenuous, while short, and both Gerry and Marion chugged right up the very steep incline. They both are in great physical condition. They truly are very impressive people to meet and to talk with — very gracious, and very British, although they have been away from England for many years. As people captured Gerry's ear, I sat with Marion for some time and discussed England, especially from the angle that Paula and I are going to travel there on our own next June. I discovered that Marion is most taken with the Victoria and Albert Museum in London.

After descending from the falls, our group socialized for approximately a half hour before we began revving our engines to life and striking out on our own for home. Back across the Smokies and home again — a most rewarding and interesting drive and acquaintance with an icon of the British Car industry behind us.

Contributed by Bob Ricker

Five years ago this month we were being introduced to Richard and Andree Miller.

By Richard Miller

In 1972 I started Solo II autocross racing in a 1976 Triumph Spitfire. In 1986 I bought a 1960 Austin-Healey Sprite that had been road raced in the '60's and '70's and had seen some autocrossing in the '80's. In 1990 I bought a 1958 Sprite with a late model MG fiberglass front end. My son and I autocrossed these two cars until a couple of years ago.

Since then I have raced them both. In 1992 I found a 1976 Sprite in a farm field. I now have it and use it for parts. I am rough on the Sprites but have had a lot of fun racing them.

By Paulette Lownsdale

Gary Lownsdale opened the delegates meeting at Conclave 2000 by reviewing the activities of this year. Some of those included Around the World support organized by Bob Brown and future 2001 Conclave and 2002 International meet.

Gary has named Brian Thorton of Michigan to head a committee to develop ways to recruit younger members to the club. Brian has put together a detailed proposal on how he wants to proceed. A suggestion was made to survey the children of club members for their ideas and reasons for the lack of interest by the younger family menders. If you have any ideas or suggestions please contact Brian.

Edie reported that we have 3,616 members. Also, the Association of Jensen Owners has folded and we have offered complimentary memberships for the rest of the year to the Jensen-Healey owners that are not already AHCA members.

John May had a web knowledgeable person check out the layout and code efficiency on our web site. There were some suggestions made but overall it passed the review.

Conclave coordinator Roger Hamel is working with the Minnesota club for 2001 and California clubs for the 2002 international meet. He is also collecting all information from past conclaves to help put on future ones. He mentioned he was looking for an east coast club to volunteer for 2003.

Tammy Anderson is going to begin a "Classic Chatter" section in some of the upcoming issues of the Marque. Mark Miller is reviving the International column. The Conclave 2001 promotional material is complete and will appear in an upcoming issue.

Bob Gilleland has agreed to become the national advertising manager when he returns from the UK2K tour. Paulette Lownsdale has been filling in on an interim basis. Year to date we are on budget for revenues. Victoria British has come back for Conclave sponsorship and hopefully Healey Marque advertising.

Baird Foster reported that the DMH Memorial fund is at $17,000 and is almost self sustaining now. This year's winners have been selected and will be profiled in an upcoming issue of the Marque. Baird also reminded us to start planning for the 50th Anniversary in 2002. Local clubs are encouraged to organize their own activities.

Since Bob Gilleland was not there, any discussion or vote on the nominating committee make-up was tabled.

Gateway (St. Louis) is the site for the fall delegates meeting on November 11. If you have any questions or want the complete write-up please contact Paulette Lownsdale.

British Car Classifieds

Our web site was spotted by a nearby British car

enthusiast, Robert Hall in Johnson City, who asked that I post these ads for him.

WANTED: V-8 powered Healey 3000

FOR SALE: 1964 E-type roadster, fully restored. $28,500

FOR SALE: 1976 Jaguar XJ6 coupe, bare metal repaint, including roof.

Phone Robert Hall at 423-753-3327 or 931-260-9787 or e-mail to robert68@multipro.com
October 8 Drive B-4 Pubbing. Meet at Faculty Club on Neyland Drive at 1:00 p.m.

October 9 Pub Night at Sullivan's Restaurant on Northshore, 7:30 p.m.

October 14 Brits and Grits Drive with Gerry and Marian Coker. Meet at Alcoa Wal-Mart at 10:00 a.m. sharp! Bob Ricker, drive captain, 865-694-6086.

---
SMOKE SIGNALS

Smoky Mountain AHC Newsletter

Amy Turner, editor

126 S. Jackson Street

Athens, TN 37303-4711

Phone: 865-300-4553

E-mail: Ltturner@usit.net